In a bid to unravel the cause of the recent death and suicide attempts in Lagos lagoon, New Telegraph has spoken to two traditionalist who advanced reasons beyond depression.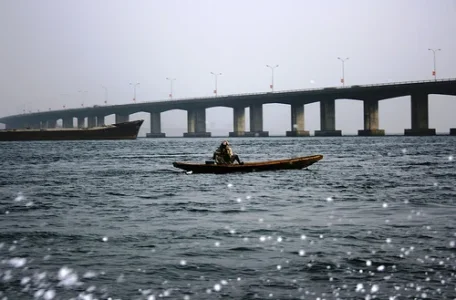 The traditionalists Chief Zebrudaya of the famed New Masquerade, Ayekonilogbon and popular Ifa priest, Yemi Elebuibon said that the lagoon is angry.
After due consultation with the gods and his ancestors, Ayekonilogbon, declared emphatically that anything could have caused the death of Oji.
Many theories and suggestions have been advanced on what might have been the likely cause of his action, the most prominent being depression.
However, the Ifa priest said, such a theory could just be a smokescreen. To him, that a bird cried at night and a child died in the morning could not be wished away as a mere coincidence.
Traditionally speaking, he said, only two theories could suffice in this case. "It is either he was controlled using an African traditional technique or the lagoon is hungry and angry.
"Considering that it was after Oji received the call that he took his life in such a cruel manner, speaks volume. If he was controlled through African traditional way, no matter how he tried to evade it, he could still have looked for or waited to get near water before taking his life.
You also know that our religion believes in destiny, it could have been his destiny as well. "Again, if you look at the rate of deaths in the lagoon in recent time, via suicide mostly, it is equally possible the water is hungry and angry.
"Yet, the traditional belief behind suicide is that some people do not just commit the act on their own, but for some mystical interventions. However, some people could find themselves in critical and unpleasant situations, and opt for suicide as the last resort instead of living to face the problem.
Elebuibon nevertheless agreed that it is possible for a person to harm himself or herself without any diabolical undertone. "We live in a world where we all have personal battles. We tend to overcome them each time they arise as a result of our mental strength but sometimes they conquer us.
Advancing reasons for the suicide and suicide attempts, Elebuibon said: "However, a person may be suspected or confirmed to be under hypnotism. Such a person will begin to act under the control of mystical forces."
The renowned traditionalist also said there is history of suicide in Ifa mythology and that hypnotism can only be prevented through constant consultation with Ifa for spiritual fortification.
When this happens, a person may consider suicide as his/her last resort," the priest told Telegraph. He said it could be diagnosed through a session of Ifa consultation