The presidency has explained why only 21 Chibok girls have been freed from the Boko Haram sect.
Minster of Information, Lai Mohammed also spoke on his recent reference to Bring Back Our Girls Group as an opposition.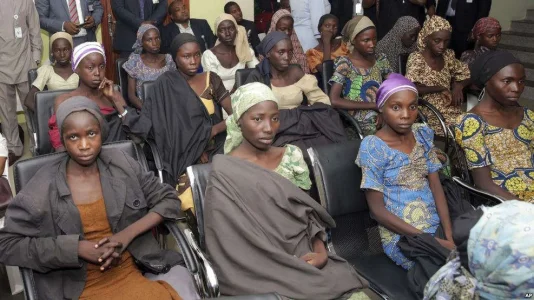 The government spokesman said while the group was playing a very good role in reminding the government that the matter was still not resolved, the administration believed that it was not fair on their part not to take a holistic picture of the situation.
"When we came back (from Sambisa forest) they now issued a statement in which they said they will not tolerate any delay nor will they tolerate any excuse from government of Nigeria. It was at that point that I said wait a minute. You can't start talking about delay or excuses from government.
"These girls have been kidnapped 400 full days before we came in, if anybody dilly-dallies; it was the other administration, not us. Negotiations are very delicate, negotiations are not something you can invite somebody to come and join you.
"You need to establish confidence building and trust. It took us a greater part of two years to be able to establish that trust and say look, these are the right people to talk to.
"The dividend of that was the release of those 21 girls and who knows we probably would have gotten more than that if not because the party we were negotiating with felt that we breached some of the agreements.
"That is why we cannot even tell you the stage we have gotten. There is the issue of national security in some of these negotiations and that is why it is important for us to be careful in the way we go about it", he noted.