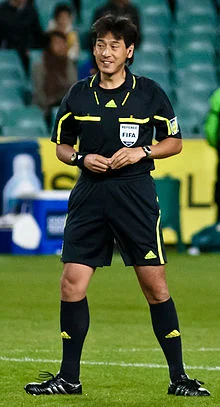 FIFA has backed the under-fire referee Yiuchi Nishimura who officiated in the opening match of the 2014 FIFA World Cup tournament.
Nishimura has been roundly criticised for some of his decisions in the game between Brazil and Croatia on Thursday which the host country won 3-1.
The Japanese official awarded a controversial penalty to Brazil in the second half,pointing to the spot after Dejan Lovren was adjudged to have fouled Fred in the box.
FIFA's referees' chief Massimo Busacca believes that the referee was entitled to make a decision whether it was a penalty.
"The referee is concentrating on the situation and the gesture [of Lovren putting his hands on Fred]" Bussaca said
"How much was the gesture? How much was he really holding? Black and white is something we can discuss. Many say yes, many say no. It is important to keep your opinion.
"The referee had a very good position and from there he saw. On the pitch he has one second to make the decision.
"Unfortunately, the referee is not the defender or the attacker to understand or to know how much it was or was not [a penalty].
"We made it clear we did not want to see holding.
"There was contact. We are not here to discuss that. That's why we are working on prevention.
"[He made contact] with the left hand and the right hand. If you make contact you permit the referee to go in one direction."
Photo Credit: Wikipedia