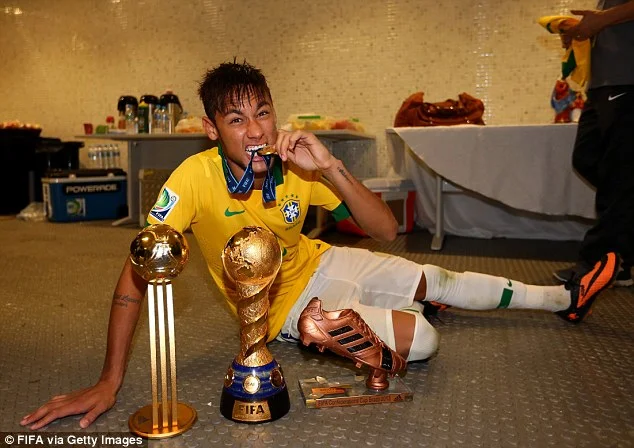 So after waiting for so long with bated breath,the 2014 FIFA #WorldCup tournament is here upon us in Brazil.
To some people,football has come home to a country that really knows how to play the game,some could say,what a befitting nation to host the World Cup other than Brazil who has won the tournament more than any other: five times.
With fears of protests threatening to cripple the competition,the Brazilian government will have a hard time curtailing any demonstration if the citizens take to the streets during the tournament.
So on Thursday,the ball will be set rolling when Brazil will take on #Croatia for the first game of the World Cup.
The match which will be played at the Arena Corinthians stadium #SãoPaulo,one of Brazil's most famous city,it will be an opening game the locals will be turning out en masse to cheer their team.
Football is like a religion in Brazil and the fans easily raise up dissenting voices when things aren't going their way.
A win in the opening game would be the perfect tonic for the South Americans but in Croatia they have a team that thrives as a unit.
It is the sort of game that can be decided with the odd goal,with both teams likely to put up a firm resistance to any onslaught.
Although #Brazil are the strong favourites for this game,it is left to be seen if they will be browbeaten by pressure of playing in front of their fans.
#Croatia will face a tough time though,as they are struggling with injuries ad suspensions.
#DanijelPranjic might not be starting after picking up an ankle injury in their final warm-up fixture against Australia. Ivan Strinic is also the other player sidelined,leaving coach Niko Kovac scratching his head over the shortage of players.
In his press conference on Wednesday a confident Felipe Scolari said: "I want to say to all Brazilians, our time has arrived," he said. "This is our World Cup."
Key men to watch for both sides:
Brazil(Neymar)
Seen as the poster boy of Brazilian football,Neymar will be coming up with the responsibility of bringing up the goods for the Selecao.
Having had a baptism in his first season at #Barcelona,what better way to put aside a torrid season by having a huge World Cup tournament.
Brazilian great,Pele acknowledged that #Neymar is under enormous pressure carrying a weight of expectation on his shoulders.
Just as he played a pivotal role in helping Brazil win the 2013 Confederations Cup,he would be hoping to replicate the same feat this time around.
Will #Scolari start him from the left like he has always done,or play him just behind Fred? The thing is that irrespective of where he operates from,he would certainly be a threat for the Croatians.
Croatia(Luka Modric)
By far the danger man for the Croatians #Luka Modric would be hoping to reignite his club form for Real Madrid and putting up the same showing for his national team.
He will pull the strings from the midfield and most likely will dictate the tempo of the game. Ramires,Luis Gustavo,Paulinho(whoever starts) will have to be on their toes to take of the sting in Modric's armoury.
With Bayern's Mario Mandzukic going to miss this game because of a suspension,Modric would have to make sure that his team gets going even when the whole stadium might be against them.
Did you know that:
*Brazil have won eight of their last nine World Cup games in the group stages (1 draw). Their last defeat dates back to 23 June 1998 against Norway (1-2).
*Also the last time Brazil played Croatia was in 2006 which ended 1-0 with AC Milan player,Kaka scoring the only goal of the match.