President Yahya Jammeh of The Gambia has returned to Supreme Court, where he petitioned the court to halt inauguration of President-elect, Adama Barrow.
This is coming as the Economic Council of West African States, ECOWAS mediation team led by President Muhammadu Buhari in talks with President Yahya Jammeh of Gambia to end the crisis over his refusal to accept defeat and step down next week failed.
The Gambia's dictator and his political party have petitioned the court to stop and prevent any government agency, public servant to assist in inauguration process suppose to hold January 19.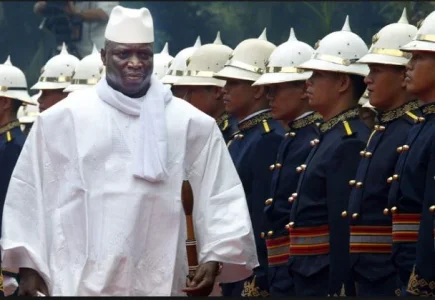 Mr Jammeh has been demanding a new election, run by a "God-fearing" election commission following his shock defeat at the hands of opposition leader Adama Barrow in the 1 December poll.
Mr Jammeh first seized power in a coup in 1994.
ECOWAS leaders are currently in Bamako, Mali for the heads of state meeting where decision will made on what next to do with President Yahya Jammeh of Gambia.