Nigeria -
About 10 people have been quarantined following an Ebola Virus Disease scare at the University of Calabar Teaching Hospital, Cross Rivers State.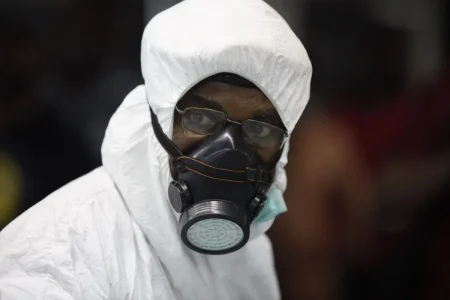 Although management of the hospital denied the development, it nevertheless have shut down the Accident and Emergency ward after the Ebola virus scare hit the health institution yesterday.
"A patient was brought in on Tuesday, vomiting, stooling and bleeding from the nose and mouth. He had high temperature. It was suspected that he had haemorrhagic fever, but it has not been confirmed. He died at about 2 a.m. yesterday and his body has been quarantined, while the ward was shut down." a staff of the hospital said.
However another staff said "the patient was suspected to have died of haemorrhagic fever or adverse drug reaction."
The employee said the State Ebola Emergency and primary healthcare teams were contacted and they arrived about 6 p.m. to take the sample of the deceased for further investigation.
Chairman of the Medical Advisory Committee of UCTH, Dr. Queenet Kalu, confirmed the development, admitting that there was a patient who died of symptoms suspected to be haemorrhagic fever.
"Yes, we had a patient that was suspected to have died of haemorrhagic fever, but it does not call for panic as everything is under control. There is no need for the public to be scared of EVD as it has not been confirmed."
All the nurses and medical personnel, who had contacts with the patient have been invited back to the hospital and quarantined for treatment, Daily Sun said.
Last edited: