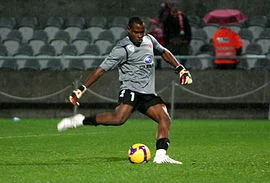 Super Eagles goalkeeper Vincent Enyeama has withdrawn from the Nigerian team preparing for the 2015 African Nations Cup qualifiers.
Nigeria is scheduled to take on Congo DR this weekend at the UJ Esuene stadium in Calabar,before travelling to Cape Town to play South African next week.
But Enyeama has noted that he will not be playing a part in these games,adding that he has some family demands to sort out which will keep him out.
The 32- year old Lille FC goalkeeper further added that he has spoken to Stephen Keshi,who approved for him to skip the games.
"I spoke to the coach and explained to him why I couldn't make it," Enyeama told ColinUdoh.com on Monday. "I have some very pressing family issues to attend to at this time and it's important for me to be there with my family at this time."
However the withdrawal didn't mean that Enyeama has played his last game for Nigeria,with the player himself confirming that he is still available for future selections.
"I've told the coach that I will be available in future. But this time, I need to be there for my family."
It is left to be seen if Keshi will draft in another goalkeeper from the local league,or stick with both Austin Ejide and Chigozie Agbim who were called up for the two matches.
Photo Credit: Wikipedia