The former minority leader at the Abuja Municipal Area Council (AMAC) legislative council, Sunday Biko, has quit the Peoples Democratic Party (PDP) to avoid being consumed by confusion.
The councilor representing Gui Ward, who was elected on the platform of PDP, said in-fighting and distrust trailed the failure of the PDP to clinch power at the federal and area council levels and that the leadership of the party is tearing it apart to the detriment of the electorate and politicians.
"I hereby identify myself with the APC to contribute my quota in the development of AMAC and the FCT in general. It is an established fact that Nigerians are desirous of purposeful leadership run by visionary, focused and God-fearing leaders such as the ones I found in the APC," he said.
While presenting the decampees the Supervisory Councilor for Works and Housing, Jagaba A. Sarki said the PDP ward chairman, Yakubu Ismaila, secretary Ayuba Sunday were among the 240 people that defected to the party.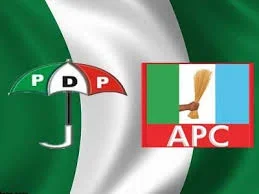 He said they are ready to be identified with the development taking place at the council.
While welcoming the decampees, AMAC Chairman, Abdullahi Adamu Candido, said they were following the trends in the council and they felt it was better they supported APC so that they could be part of the performers and add value to what they were doing.
"I want to assure them that they are the same as those who are founding members of the party. They are not new members but members of the party," he said.
The decampees were received at Iddo Sarki on Saturday