Aviation Minister, Hadi Sirika has said that the Abuja runaway has expired since 1996 which makes it unsafe, unreasonable as there is a daily occurrence of incidents.
He said the Senator representing Kaduna that hosts the alternate Airport will agree that the Airport is safe.
Hida Sirika stated this on Thursday as he appeared in Senate chamber to brief senators on proposed closure of Abuja airport for repairs.
He said: "Abuja runway was constructed in 1982 and has only a lifespan of 14 years. Which means it has extended its usage".
"On the 8th of January this year, a plane landed in Abuja which ruined the tire and now the plane can no longer fly.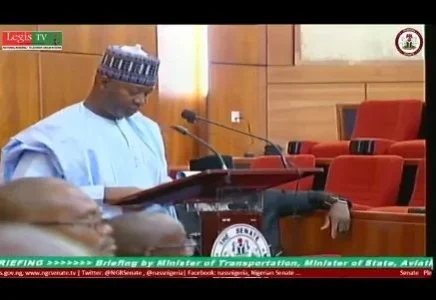 He gave an instance when a plane landed and tire of an aircraft busted and Julius berger had to be called to tow.
Hida Sirika explained that every flight plan always have alternate landing route and it has always been Kaduna for Abuja flights
"All options by Nigerians to use portion of the airport will not work saying most planes are too big".
"President Muhammadu Buhari-led federal government administration has focused on safety and will not be able to defend it if they have to cut runway by half", he told Senators.