Former majority leader of the Nigeria Senate, Ali Ndume, has distanced himself from the 2019 Governorship election in Borno state.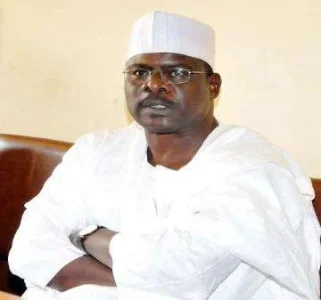 Speaking with PREMIUM TIMES on his plans for 2019 and the Borno governorship race, Ndume said, ''There are some issues that have recently started generating concern and anxiety in our state. Mark my words, I don't envy anybody that wants to be the governor of Borno. And I don't, on my own, struggle to be anything in life. God that creates you gives you the responsibility to carry as human, and he also gives you the strength to carry on.
''Besides that, I have three key reasons why I cannot bother myself lobbying or struggling to become a governor.
''One is that, personally, I feel that anybody that is approaching his 60s shouldn't be thinking of contesting the governorship of any state. As complex as the Nigerian states are, governing a state needs a younger and vibrant person that can stand the rigours. I am about 58 now, by the time my tenure ends in the senate come 2019, I will be 59. I personally feel that by that age, it will late to aspire being a state governor.
''Secondly, at 58, I look forward to the hereafter. At such age, one needs to be closer to God. These are public offices, which come with a lot of burden and responsibilities of which one must account for before God. We have a lot of question to answer from God. Right now, I am a representative; nothing is given to me in terms of material resources or money on behalf of my people which I must account for. All I am being given now are my entitled salaries and allowances. Even the constituency allowances are meant for the running of our offices at the constituency level and not money given to be shared to people. Religiously, the responsibility in what I am doing now, before God, is less. But a governor has to go for FAAC meeting every month to receive money on behalf of his people. And it is expected that with such money received by a governor, he or she must fulfil the constitutional and religious role expected of him. And Section 14 (2b) of our constitution says that the purpose of government is provision of security and welfare to citizens.
''While God says He will hold any leader to account if anybody or even a child dies in the hospital because the state has failed to provide the medicine to cater for such persons needs; or if anybody goes to bed with hunger, because the governor fails to provide food, or the enabling environment for such a person to get his food; God will hold the leader responsible. Governing a state is so difficult and I am not ready to face such burden. Besides, what do I want at 58, that I have not enjoyed in the past? I am a contented man; I live by God's wish. And if He says I will be governor tomorrow, I have no such powers to stop it. But for me to lose sleep or struggle to become a governor in Borno State is something I would never do.
''The third reason is the political reality in Borno State. I am from southern Borno. And technically, we have only seven local government areas out of the supposed nine, because Damboa and Chibok, which are also part of Southern Borno, are incidentally under Borno Emirate, which is located in Central Borno. And we all know that southern Borno is one of the most diverse senatorial districts in this country. When I contested for senate in 2011, I lost four local governments in southern Borno, because there is no unity. That is why I have been struggling as the senator to get us united. Except on rotational bases, which will never be possible in Borno, there is no way someone from the southern Borno will emerge as elected governor. This is because the central and northern Borno have 20 local government areas with one language, one religion and one tradition; unlike the southern Borno where we have multitude of languages and traditions.
''So as you can see, anybody saying I have interest in this job called governor of Borno State, is just being mischievous.