National Chairman of All Progressives Grand Alliance, APGA, Victor Umeh, has denied receiving $2 million from Imo State governor, Rochas Okorocha; VANGUARD reported.
The bribe is said to be payment to let Governor Okorocha back into APGA.
Addressing newsmen after the commissioning of Abia state APGA office, Umeh said, "Such things cannot be touted with my name any more. I have proved myself in Nigerian politics as somebody who can't be purchased by anybody, no matter how much money you have. I am so focused and concerned on the affairs of this party and Igbo people and if you want to achieve that, you will not allow money to influence you.
"All the people who had contested elections in the party, nobody can say he bribed me. I don't behave like that. As for Okorocha, he has been swallowed by his misadventure and it is normal that he will be saying anything. Of course, he has been sending people to me that he will like to return, but you see him quickly refuting it.
"I said no, you did not behave well, we can't entrust him with APGA again to do anything. If Imo people want him, it should be through APGA. I am very certain that they have rejected him, that is why he is running back to APGA to see if he can clean himself up. Let him stay.
"We have capable people that can rescue Imo State. He said he is on a rescue mission, but rather he imprisoned Imo State. We have capable people in Imo who will rescue Imo people, people with true Igbo spirit that is lacking in him. He is not somebody you can describe as a proud Igbo man. I know what we did to give Imo people governor through APGA so that Imo State will help Anambra State to get the rest of South East together for the good of our people."
"After that strenuous effort, he threw it away and joined foreigners. So what are we going to do with him again? If you are in my position as chairman of APGA, what will you do, nothing. We are making very serious effort to win the election, and I am sure that we are going to win. We will win back Imo State and we shall hold him accountable for his misdeeds".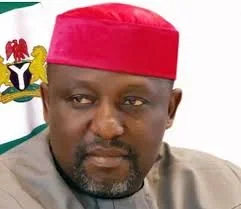 #APGA #Okorocha #Anambra #Imo