The Omega Fire Ministries has denied that the General Overseer of the church, Apostle Johnson Suleiman has a hand in the arrest and detention of one Miss Stephanie Otobo by the police last Friday, March 3, 2017.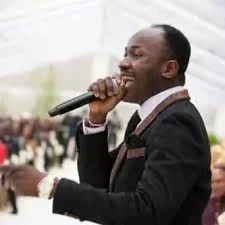 A statement signed by Phrank Shaibu, Communications Manager to Apostle Suleiman also denied that there was a so-called amorous relationship between the said Miss Otobo and the General overseer.
The statement of Omega Fire Ministries was in reaction to two letters written by Lagos lawyer, Festus Keyamo demanding the same N500 million on behalf of the said lady and also accusing Apostle Suleiman of procuring policemen to intimidate and detain his client unlawfully, having earlier promised to marry her.
But Phrank Shaibu said the lawyer was misled into believing that there was an amorous relationship between Apostle Suleiman and the said Miss Otobo, pointing out that the lady was caught up by her own machinations as she was arrested while trying to withdraw money paid into her account by the Church in a sting operation coordinated by the police.
"Unknown to Keyamo, the police was alerted following several attempts by the said lady to blackmail Apostle Suleiman.
"The police also recorded her conversations making the frivolous demand. The highpoint of the drama was her attempt to withdraw money paid into her account at the instance of the police.
"The lawyer should know that his client was arrested by the police with abundance of evidence confirming that she is indeed a serial blackmailer", he said.
The Communications Manager further debunked Keyamo's claim of an amorous relationship, a promise to marry and that the Senior Pastor had actually made the initial move towards marriage by seeing her parents, wondering how such a transaction could have taken place without any iota of evidence.
"Let me place it on record that, the lady in question is a self-confessed stripper in a nite club in Canada, who like thousands of people that seek help from Apostle Johnson Suleiman, called to pretentiously convey her intentions to embrace Christ and also needed financial help to keep body and soul as she no longer had a means of livelihood after quitting as a stripper.
"Does Keyamo or his serial blackmailing client have pictures of the visit by Apostle Suleiman or his representatives to her parents? In any case, how could such a relationship have existed when Apostle and the said lady have never met physically?
"How could he have made a promise of a house and a lifestyle comparable to what she has in Canada when he has never been to her house or seen her physically as to have an idea of her living standards?" He asked.
Shaibu contented that the Lagos lawyer must have been misled or excited by the prospects of getting a whopping N500 million, both reasons for which two letters were written and sent to Apostle Suleiman wondering how Keyamo could have fallen for such a gimmick in the first place.
"If Keyamo was not misled or excited by the prospects of a jackpot of N500 million and or an opportunity to save his already dwindling career in law practice from total caput by latching on the popularity of Apostle Suleman vide this tendentiously devilish plot and skewed romantic fantasy, then we may as well demand an evaluation of his mental state along with his client who was obviously on the verge of delusion before she was arrested.
"It's either one of the options stated above or he is trying to engage in a proxy war on behalf of some unknown agents who had become irritated by Apostle's stand on national issues. His inference to the latter incident in Keyamo's letter to the Inspector General of Police (IGP) confirms this benign thought", he declared.