Governor Kashim Shettima of Borno state has sent a public plea to Nigerians to support the war against Boko haram.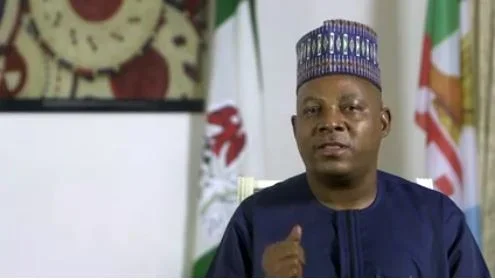 Shettima made the plea via a 7 minute video posted on Social network. ''My dear brothers and sisters, the people of Borno State, In recent days and weeks, we have come under renewed attacks which horribly remind us, that our security challenges are still longing, ''Shettima says in the video.
''It is regrettable that this upsurge in cowardly attacks came not long after the patriotic military forces of this country recaptured Sambisa Forest which used to be the operational zone of the Boko Haram terrorists. It was from Sambisa that these mass murderers used to train, prepare and launch bold attacks on our communities.
''Our gallant military and other security agencies have now denied them the use of their former high command.
''However, we must remind ourselves that the recapture of Sambisa Forest and the flushing out of the terrorists from most of their former enclaves does not mean that our struggle is over.
''Instead, the terrorists have resorted in their usual cowardly fashion, to stepping up attacks on soft targets. Cowardly and vile attacks such as these on schools, places of worship, markets and other soft targets are signs of the terrorists' weakness and of their desperation to tell their terror co-travellers around the world, that they are not yet finished.
''In this criminal endeavour, they resort to the use of teenagers and children as young as seven years. More recently, they even strap babies on the back of their recruits in order to slip through our security dragnets. They also use hard drugs on these innocent children who do not know what they are doing when they kill their own parents, relations, and fellow countrymen and women. Many precious lives have been lost, hundreds of citizens including school girls were abducted; many more people have suffered serious injuries as a result of these senseless acts of bloodthirsty enemies of peace.
''I once again extend my deepest condolence to the families of all those who have lost loved ones or suffered injuries due to these cowardly attacks. ''We pray to Almighty God for the repose of the souls of those who lost their lives and for the quick recovery of those who suffered injuries.
''In the midst of our pain in these trying times, we must acknowledge the support of international and local humanitarian agencies, development partners and credible NGOs for standing by the good people of Borno State through thick and thin.
''Even though we are all saddened by episodes of attacks, as your Governor, I assure you that I serve with a constant reminder that the number one basis of Government is the protection of innocent lives and property.
''I know the weight of my duties and the oath I took before you and God. With your mandate, I have the privilege of first hand security reports and I can share with you, that for every vile attack that the terrorists were able to carry out on innocent lives, many more were stopped by our gallant security agencies, our Civilian JTF, vigilantes and hunters. As we know, the intention of terrorists is to demoralise us, make us to live in fear and prevent us from going about our normal lives and worshipping our God in ways that differ from their ungodly violence.
''We will not allow them succeed in their wish to make us live in the permanent slavery of fear. Infact, they have failed in their mission because together, we have said no to them. And in saying NO, we must not let them cause us any more harm.
''The Government of Borno State will continue to provide the necessary support to our gallant military and security agencies and volunteers in their patriotic effort to restore peace and security in our ancestral land.
''We will continue to take preventive measures by working with community leaders across ethnic and religious divides in all our 27 local government areas to increase community policing. We all have roles to play.
''I know that majority of you, the good people of Borno State, have remained sincerely committed to fighting this insurgency. I have met parents who exposed their insurgent biological children and handed them over to security forces to face justice.
''I know that insurgents and their allies, often hide their identity so well that good citizens may innocently associate with them. But the bold patriotism of parents who turn in their children has always strengthened our resolve.
''This is why I strongly say to security agencies, that anyone factually suspected of despicable links with the Boko Haram and other criminals should face justice even if that person happens to be one of my three biological children. Support for insurgents is a crime against humanity.
''I have met parents who encouraged their children to join the Civilian JTF and risk their lives to fight insurgents.
I have even met parents who remained contended and proud even after their sons died fighting under the Civilian JTF. I have seen elderly men and young girls organize themselves to join the fight as vigilantes and the Civilian JTF.
''I know the sacrifices many citizens have made and it is because of your devotion that I am urging all the people of Borno State to rise up as one and increase our community vigilance, especially around soft targets.
''We must remobilise ourselves and step up vigilance and community policing around all our population and community centres like mosques, churches, markets, schools, hospitals, shopping complexes, football fields, social gatherings and motor parks.
''We must watch out for strange and suspicious faces, not for the purpose of taking the law into our hands but for reporting these suspicious persons to the nearest security agents for prompt action. I urge you, the good people of Borno State, not to despair but to rise as one and stand up to this murderous gasp of a dying insurgency.
''I believe God is with the non-violent. May He crown our efforts with the quick rescue of all our citizens still in captivity and May He grant us enduring peace and prosperity! God bless you all
See video: