Former Vice-President Atiku Abubakar and a former Governor of Jigawa State, Alhaji Sule Lamido, may have to fight each other for the presidential ticket of the Peoples Democratic Party for the 2019 election.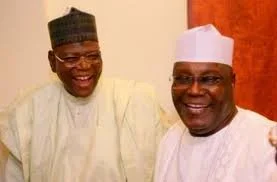 PUNCH reports that though Atiku had denied plans to leave the APC, sources in the PDP, however, said Atiku's hand could be felt in the current moves to reposition the former ruling party.
A source within the PDP who spoke anonymously said, "Atiku knows that he may not have the chance to contest the APC ticket, and that's why we have been talking.
"He wants to be President and as it is, nothing is sure for him in his new party. He still believes that his former party, which is the PDP, is a formidable party on which platform he can realise his age-long ambition."
Lamido, who is also said to be eyeing the party's ticket, was believed to be engineering subtle moves against Atiku. The former governor had publicly announced he would run for the Presidency in 2019.