Former Vice President, Atiku Abubakar has proffered a timely suggestions to the agitations of those calling for a Biafra republic.
Atiku, yesterday, in Abuja, at the unveiling of a book, 'We are all Biafrans,' written by a journalist, Chido Onumah called for a restructuring of the Nigerian federation to cater for the aspirations of its component units.
According to him, such restructuring is the only answer to the current agitation for a Biafra Republic.
"Agitations by many right thinking Nigerians call for a restructuring and renewal of our federation to make it less centralized, less suffocating and less dictatorial in the affairs of our country's constituent units and localities.
"As some of you may know, I have for a long time advocated the need to restructure our federation. Our current structure and the practices have been a major impediment to the economic and political development of our country.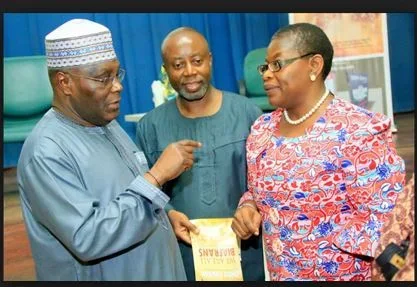 "In short, it has not served Nigeria well, and at the risk of reproach it has not served my part of the country, the North, well. The call for restructuring is even more relevant today in light of the governance and economic challenges facing us. And the rising tide of agitations, some militant and violent, require a reset in our relationships as a united nation", he said.
Source: Vanguard