Governor Rochas Okorocha of Imo State Tuesday dispensed with partisan considerations to broach issues of core interest to the Igbo nation.
According to
New Telegraph,
the governor gave detailed account of marginalization of people of the South-East and Imo State when Acting President Yemi Osibanjo visited the state on strategic consultations.
His words: "No other group in Nigeria that had invested as much into our nationhood can sing the song of marginalisation as much as Ndigbo has been made to sing it.
We have nothing to show that we are part of the Nigerian project; neither do we have any sense of belonging in the present government at the national level. "We have been marginalised both in terms of projects and appointments. In Imo State, for instance, all we have is a Minister of State to show for all the efforts and extreme sacrifices we made to ensure that the All Progressive Congress (APC) had a good outing in the last general elections."
"I beg that as the government gives subsequent appointments, let the qualified sons and daughters of the state and region be considered".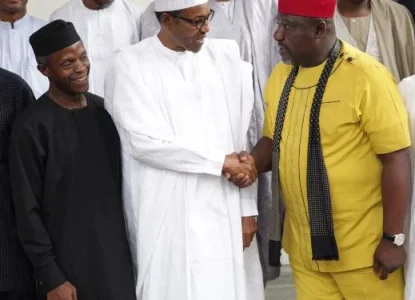 The Chairman of the All Progressives Congress (APC) Governors' Forum as he carefully chose his words said: "Given the roles that I personally played as a sacrificial lamb in the South- East during the elections, my state deserves a better deal. There is no Federal Government presence in the oil-producing areas, and none of our youths benefitted from the Federal Government's Amnesty Programme. I also use this opportunity to ask for the quick refund of the money spent by the state on Imo International Cargo Airport and on some federal roads in the state".
Responding, Osinbajo said that it was not exactly correct that President Buhari had been unfair to Imo people. He said that the Presidency couldn't deliberately set out to marginalise Ndigbo in view of their contributions to the development of the country.
"You said that the highest appointment given to Imo under Buhari was Minister of State for Education. I will like to equally inform you that Katsina, the home state of Mr. President, and Kaduna State where Buhari resides all have ministers of state.
"If there is any governor in this country that has the ear of Mr. President, I will say that it is Governor Okorocha. As such, it cannot be said that the state is marginalised by the APCled Federal Government," the acting president said.
READ MORE:
NEW TELEGRAPH