Nigerian President Muhammadu Buhari has asked the Senate to extend his medical leave, deepening suspicions that his health is far worse than officials are publicly admitting. The 74-year-old leader who had been dogged by speculation about whether he was physically fit for office even before he took power in May 2015, had been due to return to Abuja on Sunday after taking more than two weeks' leave for medical checks in the UK.
But, why is President Buhari's health report/status shrouded in secrecy, as it seems? What are they hiding about the President's health? Here is a list of Nigerians who are believed to respond on the health status of Nigeria's number one man, as compiled by
Nigerian Bulletin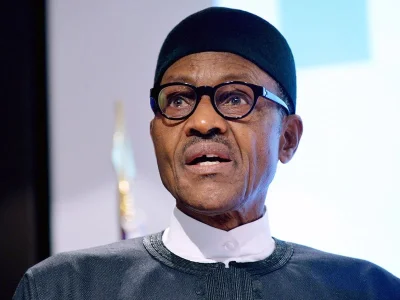 1. Aisha Buhari –
Aisha is the wife of Nigeria's President, Mohammadu Buhari. Few days ago, reports say Mrs Aisha travelled to the UK to check on his ailing husband. Except photos that surfaced on the internet, Mrs Aisha did not publicly disclose her husband's health status.
2. Vice President Osinbajo –
Prof. Osinbajo, a legal luminary is the Nation's second-in-command chief executive. He of all persons should know what exactly is wrong with his 'partner'. The comments of Osinbajo on Buhari's health is that he affirmed that he is hale and hearty, when he spoke with him.
3. Lai Mohammed:
Lai, Nigeria's minister of Information and Culture controls the media, defends the actions and inactions of the government. Lai Mohammed has been at par with the government since his days as the Publicity Secretary of the Action Congress. Then as the mouth piece of the Action Congress, in 2009, he challenged the Federal Government to update Nigerians on the state of health of the late Umar Musa Yaradua. Now as it is the case with him as the Minister of Information, and whose President's health is questionable and fuelling a lot of rumours, Minister Lai Mohammed has not spoken on President Mohammadu Buhari's state of health.
4. John Oyegun:
Oyegun, a native of Edo state is the National Chairman of the All Progressives Congress, the party of President Mohammadu Buhari. He, among other party faithfuls are very close to the President. But, be as it may, Mr Oyegun has not commented on the state of health of his party-man.
5. Bola Tinubu:
Likewise, Bola Tinubu, the National Leader of the All Progressives Congress. He has not commented on the health of the President so far. Tinubu is one of Nigeria's prominent politicians and the founding fathers of the APC. He was among those who 'sold' APC to Nigerians, and surely cannot be schemed out of things. But, why has he not commented on the President's health?

6. Femi Adesina, Media Team:
A trained journalist, Femi Adesina is the Special Assistant on Media to the President. In simple terms, he is the President's spokesman. Adesina – who is currently a trending topic on social media – has not given a pleasing answer to the state of health of his principal. Instead, Mr Adesina claims that only the President may wish to disclose his health status. Adesina maintained that Patient-doctor-confidentiality is enjoyed by any medical patient, and which also applies to President Buhari's case on not disclosing his health status. However, in a series of interviews, Adesina has always stated that the President is hale and hearty.
7. Garba Shehu
is also a strong man on President Buhari's media team. He is the Senior Special Adviser on Media. Besides reports that says Mr President is hale and hearty, Shehu has not come out openly oh his kinsman's health status. He only said: the President is "not in any serious medical condition".
8. Mamman Daura -
Mamman Daura -is the President's cousin apart from being in government and very close to President Muhamamdu Buhari. Daura is said to be one of the stronghold in Buhari's administration. He is expected to know what the president is upto at any given time because he enjoyed the Presidency privileged though not officially stipulated in constitution.
Mr. Daura wears same clothes with the president and goes travelling with the president on most major trips. He might be among those Mr. Femi Adesina's the media aide to president said he has been speaking with since the President left for vacation.
9. Abba Kyari
- He is the chief of staff and one of the 'Cabals' in President Muhammadu Buhari-led federal government.. Mr. Kyari holds strong place in the President's heart and should be familiar with the acitivities of Mr. Buhari both home and abroad.
10. Senate President, Bukola Saraki:
A staunch politician, Bukola Saraki Nigeria's Number 3 Man. He is the President of the Senate. The leadership of the Senate under Saraki received the two letters President Buhari forwarded on his vacation notice, and consequent extension. Senator Saraki, as widely held should be aware of the President's state of health. But the Senate President has not commented on his health at all.
11. Ibikunle Amosun –
Ibikunle Amosun is the second-term governor of Ogun state. Amosun is widely believed to be closest of all Nigerian governors to President Mohammadu Buhari. Reports had it few weeks ago that the south-west governor visited Buhari in the UK, and dined with him. Amosun, too, has not disclosed anything on the President's health since his return.
12. El-rufai:
Nasir El-rufai is the governor of Kaduna state. El-rufai - whose state is currently enveloped in a religious violence in Southern Kaduna – is widely regarded as the 'unofficial Vice President' because of his closeness to the Buhari-led Federal government.
----
Credits:
Nigerian Bulletin