Waconzy, Nigerian singer and entertainer has come under heavy criticism for creating the
impression
that he was holding a wad of $100 notes, which he
claimed totaled $100,000
whereas the notes he held consisted mostly of $1 notes, which he concealed behind a single $100 note.
In a note written to a popular blogger, a fan of the blogger constructed a detailed analysis of the image especially the dollar notes in Waconzy's hand and sent in his outcome with hard evidence:
"...Waconzy's picture wasn't with 100 dollar bills as he claimed. He only put a 2013 series 100 dollar bill in front. You can tell the other notes behind are discoloured and worn. They are all $1s. Stripper money! Here's the evidence: As you can see in his picture. The circles/curves that exist on the top left part of the note and the whole left side. Those circles/curves don't exist on the 100 dollar bill. Only on the 1 dollar. The total money there is like 900 dollars. If he wanted to show off, he should've just taken his time to borrow some money. So burn him please. Thanks."
This was merely the beginning as Waconzy was feasted upon by enraged music lovers who drew a sharp semblance between Waconzy and American artiste, Soulja Boy who posted fake $100 bills on his Instagram page while claiming they were authentic.
Read some of the comments below:
Anonymous:
"You know what... Yesterday, I looked at this picture and was sure I could see some 1 dollar notes in it."
TeeDee:
"Didn't I say it? Dirty lying braggart! OMG, Wacomzy you see your life? Sometimes, you need to keep some stuff off d internet! Broke ass!"
Stella Chukwu:
Hahaha... Yeye guy! He wanted to pull Souja Boy style on us. He's a dirty guy putting money in his mouth. Money wey even mad man dey touch. Tufiakwa"
Anonymous:
Yeeeeekpaaa... Dem don catch am... Na by force to show money? Haba! See as this Agbero boy dey form."
Okoro:
Laughing out loud. Soulja boy!
Anonymous:
Some people really have all time to waste. Don't think I can ever have time to check someone's show off; weather real or fake. It's his problem. By the time touts stop him and to ask for the share of his loot, he will realise the implications of not being.
Anonymous:
I told you guys. He's a Yahoo boy without talent or a job plus he's a crook. Isn't that a fat lady's lap beside him in the car? The babe just entered one chance with dis motherf..ker! This guy irritates me like danm."
Hilary Obiora:
Who is the guy who created time to zoom in to find all those discrepancies? And they say we can't find the Chibok girls where they have been hidden when we have true detectives wasting here. Whoever you are, come and collect one Hennessy."
Sarah Sanni:
"It is News sha... Before some intimidated people start trying to kill themselves or do illegal things over fake dollar bills."
#Waconzy #WaconzyFake$1DollarNotes #Soulja Boy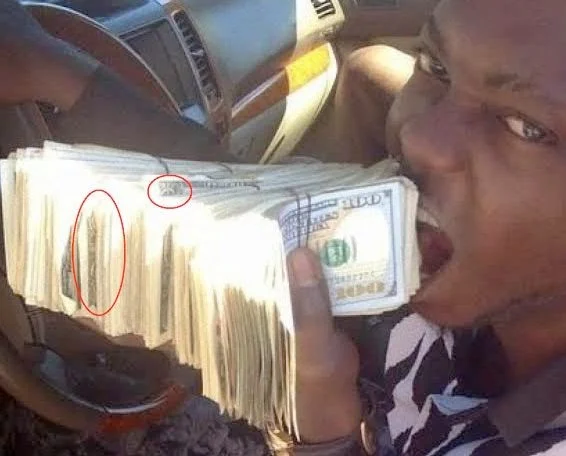 Waconzy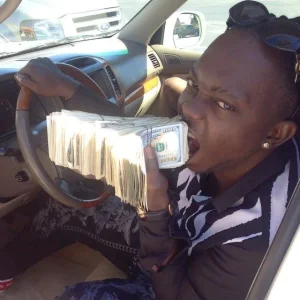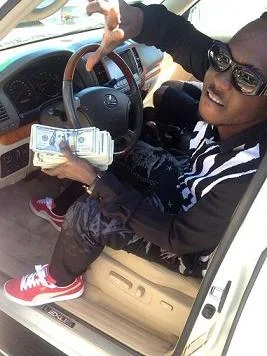 Waconzy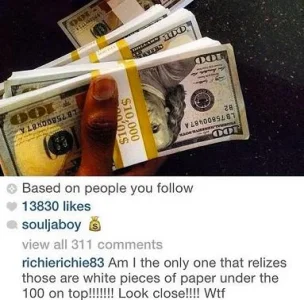 Soulja Boy's Instagram page