Chelsea manager, Antonio Conte, has said that they need 32 more points, to win the Premier League title this season.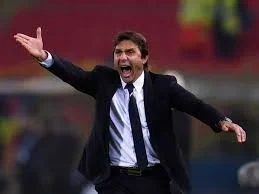 The Blues are currently eight points clear of second-placed Manchester City and host relegation battlers Swansea this weekend at Stamford Bridge.
Conte said the Serie A title heartbreak he suffered as a Juventus player in the 1999/2000 season, has taught him never to be complacent.
Juventus were six points clear of second-placed Lazio with seven matches left, but lost to Perugia on the final day to lose the title.
"Yes I remember, and a lot of times I remind you of these situations," Conte said when asked about the 1999/2000 season.
"In my time as a footballer I had two experiences, one good and another bad against Lazio.
"Lazio [in 1999-00] recovered seven points, eight points in the last six or seven games and we lost the title in the last game against Perugia. I was captain of the team and remember very well.
"After this game I had to go to the Euros with the national team and I didn't sleep for six days because it was a shock for me to lose the title.
"In another situation [in 2001-02] I won the title by recovering eight points on Inter. We won against Udinese [on the last day] and Inter lost against Lazio.
"I have experienced this, which is why I continue to repeat that there are 13 games and there are 39 points [to play for]. There is a long time to tell if we can win the title. We must be focused and go step by step and now I'm sure that to win the title we must do 32 points."