Governor Ifeanyi Okowa-led Delta State government said it has recovered a total sum of N1,976,845,123.21 in the verification of date of birth and employment status of public officers in the State.
Receiving a report from the Committee on 'verification of date of birth and employment of public officers in Delta State' which has Chief Nkem Okwuofu as Chairman, Wednesday in Asaba.
The governor decried falsification of documents and also condemned the attitude of those who aid and abet such actions.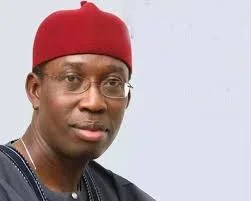 "From the report before us, out of 1,113 persons who were invited by the committee, only 376 officers were cleared, 291 are supposed to have retired which means they are receiving salaries they ought not to receive," the governor stated, asserting that "these set of persons and those who failed to appear before the Committee should be expunged immediately from the payroll".
He said, "a lot of questions need answers from the Directorate of Establishment because, these anomalies should not arise if they did their work creditably; those involved in these anomalies should be brought to book".
"This is a wakeup call in the public service that a lot need to be done to sanitize the system because we also have had situations within the public service, especially in the local government system where people who are not entitled to promotion were promoted and those who were due, were denied," the Governor added.