The Economic and Financial Crimes Commission has seized a terrace house located on No. 7, Gana Street, Maitama, Abuja. It belongs to a former acting Governor of Adamawa State, Umaru Fintiri.
PUNCH correspondent who visited the house, was told that the property was worth about N500m.
The house had painted at its entrance the inscription, 'EFCC, under investigation'.
Fintiri was arrested by the anti-graft agency 10 days ago following a petition by former members of his cabinet that he embezzled N1.9bn during the three months he acted as governor.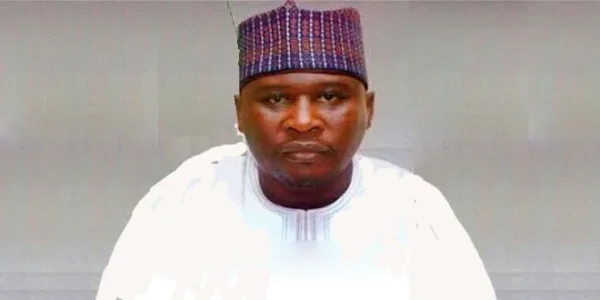 The suspect, who was the Speaker of the Adamawa State House of Assembly, became acting governor after the impeachment of the substantive governor, Murtala Nyako, and his deputy, Bala Ngilari, in 2014.
He acted as the state governor from July 15, 2014 to October 8, 2014.
A source at the EFCC told one of our correspondents that Fintiri allegedly diverted the fund that was meant for the construction of the Faculty of Law at the Adamawa State University.
He said, "Before his impeachment, Nyako left a balance of N1,957,045,82 in the state government's project account with the Yola branch of Zenith Bank, with account number 1011325467. Out of the money, N497m was meant for the construction of a law faculty at the university, which was to be sited at the former Teachers' College, Yola.
Source:
PUNCH