Dr Alex Ekwueme, Second Republic Vice President spoke with VANGUARD Newspaper about the collapse of the Peoples Democratic Party, PDP.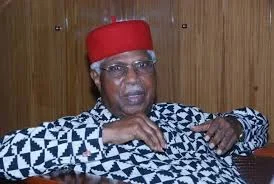 Ekwueme who is one of the founding members of the PDP said thoughts of the party often drives him to tears. He said, "The story of PDP makes me sometimes to weep. When our founding fathers said the party will be in charge for 60 years or more, some thought they were just bragging, PDP was packaged to be a mass movement of all Nigerians just like the ANC of south africa.
"We started that way, the first election in 1998, December 5, we won massively across the country, we took control of 28 out of 36 states, In 1999, we ended up with 21 of the 36 governors, south east, and south-south were all PDP, 10 of the 19 governors of the north were PDP, it was a strong showing.
"We also had control of the National Assembly, with that showing all we needed to do was to manage the party properly as envisaged by the founding fathers, making it a mass movement and expanding its power base
"Unfortunately, some people who did not know how the party was formed or what informed its philosophy, got involved in the party and decided to convert it to a personal estate without regard to the underpinning principles that formed its formation and gradually we started to lose ground.
"At one stage, in my state, they decided to commence the re-registration of members so as to exclude members who they thought were not in their camp, instead of attracting more members, they decided to exclude. That was the genesis of our present situation, coupled with lack of internal democracy.
"I can't remember how many times I've been called to come and spearhead the process of bringing back people to our party, that was what late Yaradua invited me to do as soon as he took over as president. We went round all the 6 zones, met with aggrieved members but unfortunately Yaradua passed on and that initiative was not conclusively implemented."