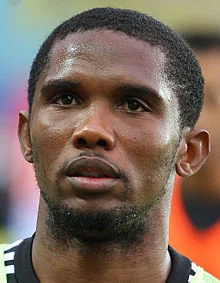 Former Barcelona striker Samuel Eto'o has for the third time insulted Chelsea manager Jose Mourinho after scoring for Cameroon in a friendly game against Germany that ended 2-2 on Sunday night.
Mourinho, earlier in the just concluded season said on camera that the quality of the strikers were poor, and suggested that Eto'o could be older than he claims to be.
The 33-year-old striker netted the first goal against Joachim Low's side on Sunday, and repeated the celebration he first unveiled against Tottenham where he held his back in mock pain and used the corner flag as a walking stick.
"Today, I am 33-years-old - and it is not because a fool called me an old man that you must believe it," Eto'o said on 15 May, while he believes he did more at his age than Mourinho's other striking options last season.
"Contrary to what a puppet says about my age, I am still physically fit. At 33, I feel really good. I have proven that I can do better than the younger players," he said a week later.
Eto'o is in talks with Chinese side Guangzhou Evergrande over a move, though his high wage demands may prove a stumbling block.
He has also been linked with English clubside Tottenham Hotspurs,in his bid to still remain in the English Premier League
Another Chelsea forward, Andre Schurrle, also netted in the friendly as both teams settled for a 2-2 draw in the match.
Photo Credit: Wikipedia