A chieftain of the Peoples Democratic Party (PDP) and former Presidential spokesperson for the Goodluck Jonathan Campaign organization at the last general elections, Femi Fani-Kayode, has urged Nigerians to pray for the newly sworn-in ministers, noting that, the task ahead of them is not an easy one.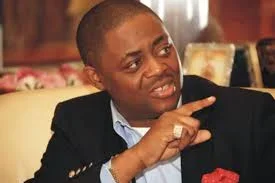 Fani-Kayode who charged the new ministers to regard their appointments as opportunity to serve the country urged Nigerians to support them. "We must support and pray for them as best as we can, let us hope that they step up to the heat and do a good job," he said.
"I was a minister almost ten years ago and I know what it is like. It is not easy, so they need our prayers and we will continue praying for them.
He, however, said that the job of Nigerians is to keep the new ministers on their toes to ensure that they did not fail in their responsibilities.
-
PM News