The Benue State Governor, Samuel Ortom and his Rivers state counterpart had been on each other's throat in the last one week and not yet to shield swords.
Wike, last week, called on the Federal Government to declare a state of emergency on Benue State over killings and destruction of property in the state.
He further called on Economic and Financial Crimes Commission to investigate the Paris Club refund to Benue State, accusing Ortom of not meeting the yearnings of his people.
Ortom had replied to the calls stating that the killings in Rivers were far more than the ones in Benue and that Wike was using the Benue issue to divert attention from his failure in governance.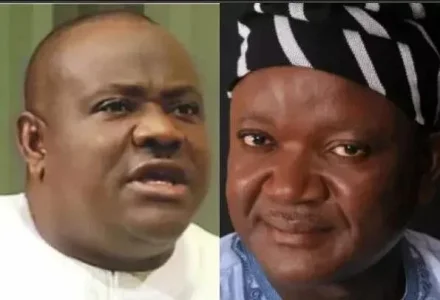 Although, Mr. Ortom said he will not respond to the outbursts of Governor Nyesom Wike but while speaking on Wednesday at the swearing-in of five permanent secretaries at Government House, Makurdi, he stylishly attacked the governor again.
He said: "they are not happy because I am honest and transparent; union leaders sit on the table with us to do the sharing each time we receive allocation; they are against me because of all these."
The governor said he would not exchange words with a governor who did not believe in the rule of law and assured Benue people that he would continue to resist temptations aimed at distracting his attention from good governance.