Nigerian returnees from Libya have revealed how their search for financial freedom and a better life turned into a nightmare for them.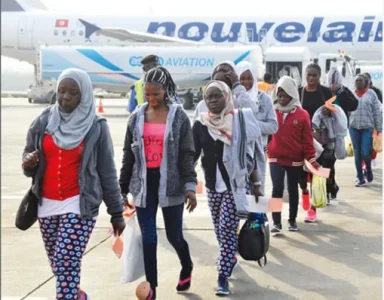 On Tuesday, 161 Nigerians returned voluntarily from Libya, assisted by the International Organisation for Migration after being detained for several months in Libya.
One of the returnees, Miss Bridget Akeamo, an indigene of Anambra State, said her parents decided to send her to Italy when all hopes of securing a job after graduation faded.
Bridget, who said she left Nigeria August last year, was four months pregnant when she returned. She said she was arrested by immigration officials while trying to cross to Italy from Libya.
Bridget said, "Ever since then, I have been moved from one prison to another until I was taken to a detention camp in Tripoli.
"We were subjected to inhuman treatment while in prison, from the food we ate to the water we drank.
"Most of the young ladies in detention camp were repeatedly raped by Libyan officials; and if you refused their advances, it would be hell for you.
Stanley Iduh, a 34-year-old indigene of Delta State, told NAN that he was tricked by an agent popularly known as "Burger," who promised to facilitate his journey to Spain through Libya.
He said that when his hope of crossing into Spain was dashed in Libya, he decided to stay back and work there.
He said, "I worked in a tile producing company and their salary was good, but unfortunately, I cannot save my money in the bank. I lived with other Nigerians. I dug a hole in the ground and hid my money in it.
"Unfortunately, one day, some Libyans came, kidnapped us and inflicted punishment on us. They asked us to call our relations back in Nigeria and tell them to send N300,000 as our ransom.
"The $200,000 that I saved disappeared; they moved us to another place until we got to detention camp.
Paul and Marvellous Isikhuemhen are twin brothers who travelled to Libya in March and May 2016 respectively in search of better life.
Marvellous told NAN that they regretted travelling out of the country because of the bitter encounter they had in Libya.
He said though they secured good jobs in a publishing house in Libya, "it was a case of suffering and smiling'' until they were given the opportunity to return home through the IOM.
The brothers urged the Nigerian government to stop young ladies from travelling to Libya, saying they were molested by Libyan immigration officials.
They said most Nigerian ladies bribe Nigerian immigration officers to secure travel documents to travel to Libya, adding that most of the children brought back home by these ladies have no fathers.
"I can boldly tell you that the children you are seeing in their hands and those pregnant ladies are products of Libyan immigration officers," one of them said.