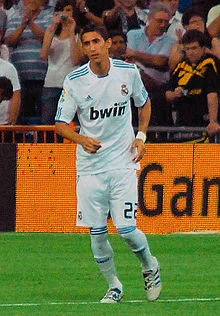 New Manchester United player Angel Di Maria has denied reports that he was the one who sought to leave Real Madrid.
The Argentine on Tuesday completed a British transfer record of £59.7m,signing for United on a five-year deal.
Di Maria who was voted the best player in the final of the UEFA Champions League match in May,said in an open letter published in Spanish newspaper Marca:"My time at Real Madrid has come to an end. It's impossible, in just a few lines, to put all I have gained here, but this letter is my way of explaining how I'm feeling now that I'm bidding the club farewell.
"Over the four years I have had the honour of wearing this shirt, I have felt nothing but pride about everything that has happened and all I have achieved together with my team-mates.
"Sadly, now I have to go, but I want to make it clear that this was never my wish. I've always wanted to progress, as anyone else does in their job. I went to the World Cup after winning the 'Decima' with the hope of getting some signal from the club management, but it never came.
"Many things were said and many lies circulated. They always wanted to pin the idea of leaving the club on me, but that's not how it was. Unfortunately, my football isn't to someone's taste. The only thing I asked for was a fair deal.
"There are many things that I value and a lot of them have nothing to do with my salary. I hope to find them at Manchester United, one of the biggest clubs in the world, with which I'm hoping to make history.
"I've been lucky enough to share a dressing room with some fantastic players, who have been even better team-mates. I think that was the key to winning the 10th Champions League. I want to apologise for the times I made mistakes, on or off the field.
"It was never my intention to do wrong by anyone. I sweated for this shirt every game as if it were the last. There were times when things went well, and times when they didn't, but what I can say is that I always gave it everything."