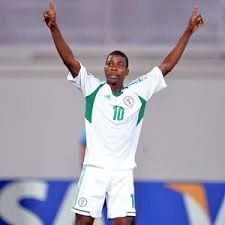 Manchester City manager Manuel Pellegrini has praised Kelechi Iheanacho as a player who has a bright footballing career at the club.
Iheanacho had an impressive debut for City on Wednesday,scoring his club's fourth goal in their 4-1 victory over Sporting Kansas City in their pre-season tour of the United States of America.
City won the battle to sign the Nigerian who was voted the best player at the 2013 FIFA under 17 World Cup in the United Arab Emirates.
And Pellegrini believes that Iheanacho will become an important player for the club in the future.
"Kelechi is just 17 years old and he's a very important player for us in the future. He demonstrated today what he can do in the future. It depends on the way he takes this profession, but I think he's a good talent.
"We've not decided yet (what the plan is for him) because it's not easy. He's just 17 and sometimes that's the problem. We'll see what he will do in the future. For the moment, he will stay with us and we'll see when we return to England what will happen with him. But he's a very important player for the future for the club.
"After the tour, we will see what happens with him. There are a lot of things to arrange to play in England but he has an important future."
Photo Credit: FIFA.com