Take a quick look at the six most important personalities in the president Mohammadu Buhari's life. They are very close to the office of the president of Nigeria. They set the pace and dictate the tune of what will happen to the country in the years of this administration alongside the president.
Apart from the ministerial positions, these set of people are very influential, they are: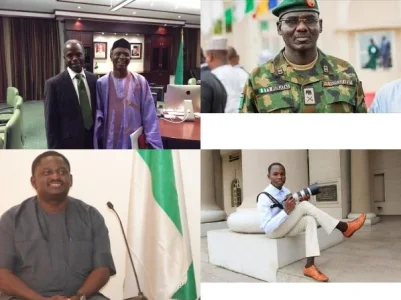 Femi Adesina
– and Garba Shehu are known as the Image maker of president Mohammadu Buhari. Mr. Femi is there to defend Buhari's action and inactions and also attack the "wailing wailers" of Nigerian youths as well as the opposition, just as Oga Reuben Abati put it forward " Collective Children of Anger"
Garba Shehu
– Working in consonant with the office of the President as a PR and signals every actions of the government to the public. Baba Shehu has no much story to tell than press releases putting much shoulder on the young and vibrant Adesina.
Nasiru ElRufai
– The main political adviser of the President. It was widely reported that El-Rufai screened list of the ministerial nominees before the submission of the list to the national Assembly. Also, at a point reported that the Vice president, Prof. Yemi Osinbajo had issues with Buhari on ElRufai disrespect to his office.
Bayo Omoboriwo
– The Astute photograph is always everywhere with the President and doing a good business for the Image and appearance of the president everywhere he goes. Truly, a picture speaks than a thousand line of words.
Prof. Yemi Osinbajo
– Pastor Osinbajo is the 2nd citizen of the federal republic of Nigeria and accordingly. it is expected that he will be in charge of the Economy. A sector that serves as the lifewire of the federation. In a recent remark by the President while away in New Delhi, he said, that the Economy is broke. Professor Osinbajo will do more for himself, Buhari and the nation by reviving the sector and also wooing investors to the dwindling economy.
Major-General Tukur Buratai
– Is the Chief of Army Staff in Buhari's cabinet and from Borno state, the 'home' of the islamic militant sect, Boko Haram. Buratai is expected to assist the President help stop the Boko haram menance in the North east and bring glory to the nation at the international scene in the fight against terrorism.
Last edited: