President Muhammadu Buhari return to Nigeria on Friday, after 50 days of medical leave in London, has triggered a lot of controversies with some opinion leaders insinuating that he returned to avert a looming constitutional crisis.
Buhari had, on his return, hinted that he had not fully recovered from an undisclosed ailment and would return to London to meet his doctors in a couple of weeks.
New Telegraph said the revelation was an apparent confirmation that the Presidency might have brought him back temporarily to avoid a situation where his prolonged absence would trigger a clamour for him to be declared incapacitated and unfit to continue in office.
A constitutional lawyer and former Chairman of Public Interest Lawyers League PILL, Dr. Abdul Mahmud, in his reaction, said that there is no specified number of days the President can spend on vacation.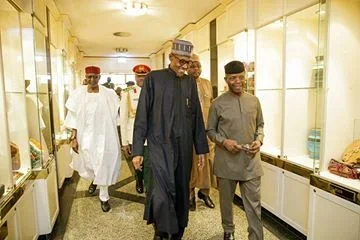 Citing Section 145 of the Constitution, "When the President transmits to the President of the Senate and the Speaker of the House of Representative a written declaration that he is proceeding on a vacation or that he is otherwise unable to discharge the functions of his office, until he transmits to them a written declaration to the contrary such functions shall be discharged by the Vice President as Acting President".
Also, an Abuja-based lawyer, Kayode Ajulo noted that the President's letter stated that the extension was to enable him (President) complete and receive the results of a series of tests recommended by his doctors.
According to him, Nigeria, like any democratic state around the world, is a Republic with her affairs governed by rule of law as against cacophony of opinions, mob rule and rule of whims and caprices of some individuals or groups.