Government activities at the Federal Secretariat complex, Abuja have been grounded for nearly a week due to power outage over electricity bill in excess of N120 million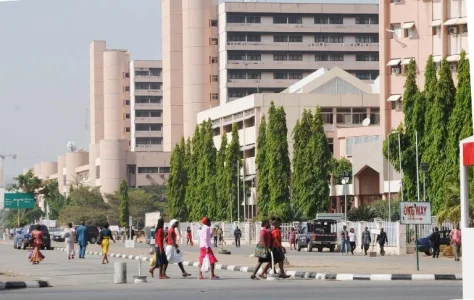 When Vanguard visited the complex, yesterday, Phase I of the complex, which is popularly known as SGF's Building, was in darkness.
It was learned that civil servants and other public officers have abandoned their offices as a result of the blackout.
In fact, the situation is so bad that even ministers whose offices are located within the edifices now avoid their offices like plague.
The affected phase provides accommodation for the Ministries of Women Affairs, Niger Delta Affairs; Labour and Productivity; part of Health as well as several other Federal Government Departments and Agencies.
Mostly affected are workers and Ministers in the Secretary to the Government of the Federation (SGF) wing of the Secretariat, who rarely turned up for work but when they do, they quickly left the offices due to darkness.
It was learnt that the staff of the affected MDAs only report for duty for the purposes of signing their attendance register, as no work can be done without electricity.
They were mostly at the foyers and verandas of their offices while using either reachable lamps and torchlight from their handsets, when they had to enter the offices.
A credible source at the Abuja Electricity Distribution Company (AEDC) said the decision to disconnect the federal secretariat was taken as part of the company's debt recovery drive.