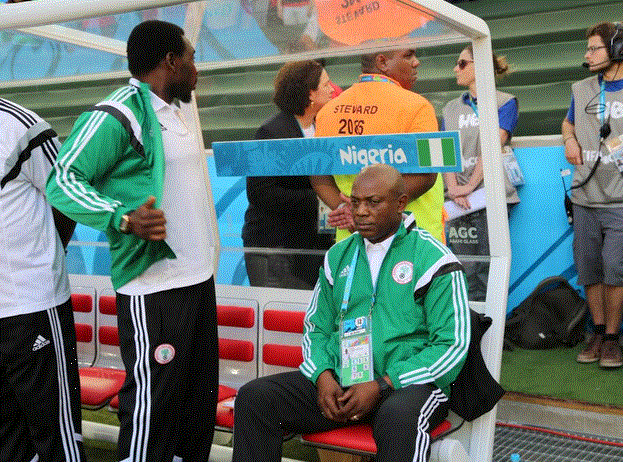 Just hours after Aminu Maigari was impeached as the president of the Nigeria Football Federation(NFF) reports have emerged that the football body has been mandated it technical committee to renew the contract of Stephen Keshi as Super Eagles coach.
Keshi's contract with the NFF ended after the 2014 World Cup tournament,with talks of a renewal put on hold.
Initially the NFF were believed to have been sceptical about offering Keshi a new deal,having had a running battle with the 52-year old who they feel was ruffling shoulders with them.
But after the turn of today's events,the Acting president of the NFF Mike Umeh directed its technical Sub committee to: "open channels of communication with Mr. Stephen Keshi with a view to extending his contract, as the NFF is still interested in working with him."
The committee is expected to report back within one week.
Nigeria's sports minister Tamuno Danagogo was the first to speak when the issue of contract renewal caused a problem that led Keshi to resign from his post after the World Cup.
Danagogo then urged the NFF to renew the coach's contract,with the minister facilitating a meeting between President Goodluck Jonathan and Keshi where he tabled his grievances.
Keshi said that he wants improved working conditions and didn't rule out managing the Super Eagles again.
"No one has spoken to me about any contract or invited me to discussion. I am always ready to serve my country to the best of my ability. But we must do things properly," Keshi told supersport.com on Wednesday before the new decision was reached by the NFF today.