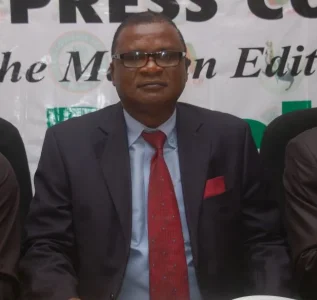 First vice president of the Nigeria Football Federation(NFF) Mike Okeke Umeh has called for an inquest over the fire incident that razed the headquarters of the football body on Wednesday.
Umeh believes that the fire was manipulated,suggesting that it could be a fallout following the reinstatement of Aminu Maigari as the NFF president.
Maigari was on Monday brought back to the NFF after being out following an impeachment by the board,but Umeh has since refused to recognize him as the president.
Umeh wondered why the NFF complex got burnt just days after Maigari came back,adding that something is fishy.
"This type of strange fire is suspicious because it happened during the working hours and every staff was on his duty post, it looks more like a sabotage, the fire did not start in the night when you can say there was nobody to act fast and we were told that one of the big men, the general secretary was standing there watching the fire as it raged," Umeh said.
"The fire completely destroyed the accounts department and the office of the general secretary, all the files cannot be recovered and that shows you exactly what we have been saying that a lot of corruption is going on in Nigeria Football Federation. That is why we have distanced ourselves, we were not part of the meeting they held yesterday (Tuesday) because nobody can perpetuate himself in power, it is not done because what they did is just to buy time, we will have our election on august 26, if they like let them burn down the whole of Abuja" Umeh was quoted to have said on Vanguard Sports.