The South-South of Nigeria is often referred to as the Niger Delta, and it is a hub of cultural activity which includes festivals and local events of varied imports and significance. Examined below are some of the cultural festivals you should attend when next you find yourself in the Niger Delta:
i. Niger Delta festival for arts and culture
This is an annual event organized to celebrate and showcase the rich cultural heritage of the oil-rich Niger Delta region. It has the backing of the government often holds in Calabar, Cross-River State. The cultural festival features boat cruise, art and craft exhibition, food fair, fashion shows, gala night, Face of Niger Delta cultural pageant, acrobatic performances, concerts and masquerade outings among others.
ii. Awankere Juju festival
This festival is usually celebrated in July and fast rising to become a national festival of some sorts in the Niger Delta. The essence of the festival is for people of the Niger Delta to give sacrifices and appreciate God for a good harvest, as well as good returns from the Niger River. The first part of the festival involves rituals which are closed to the public, but the second part is a big party with people donning masks.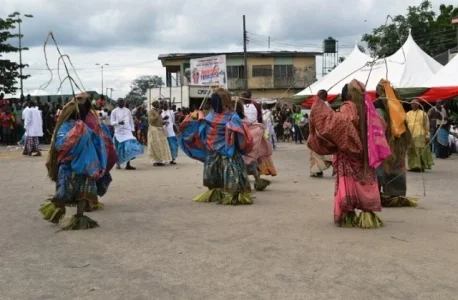 iii. Okiroro/Okere festival
This local festival is celebrated by the Okere people of Niger Delta and it is held between July to August to celebrate the gods and the ancestors for good life, health, and plenty harvest. During the Okiroro festival, the Okere Juju masquerade emerges to represent departed ancestors, and people flock around it with singing and dancing. Various clans come together for the festival and it features several fascinating traditional events.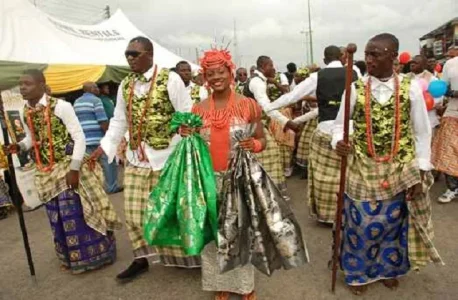 iv. Boat regatta festival
This is a water festival where sailboats are decorated in top colours to engage in racing and other water activities. Many people operate these ships to the chanting of thousands of onlookers and it is a festival that draws people from all over Nigeria to witness the water events.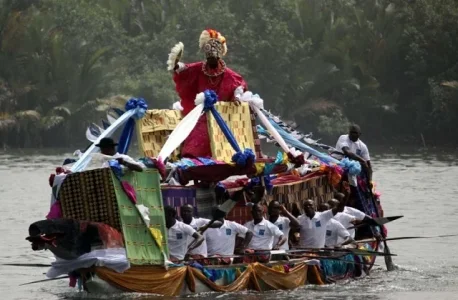 v. Cultural fiesta
Cultural fiesta takes place in several parts of the Niger Delta region, and the main objective is to enlighten the people to the need for peace and environmental sustainability. The three local governments of Ogbia, Sagbama, and Southern Ijaw hold wrestling matches to drive home their message of peace, and several dance groups entertain the people. Some of these are the Oduma Dance of Kolo, the Ayama Women Dance Group, and the Peace Ambassadors among others.
vi. Ukwatta festival
This local festival holds every February in Abbi area of Delta State. It is an annual festival marking the end of the farming activities and ushering in another farming year. It features local dances, masquerade outings, feasting, town meetings and reunions between indigenes who came back home from far and wide to rejoin their people.
vii. Adane-Okpe
This festival is a commemoration of the four founders of the Okpe kingdom: Esezi, Evbreke, Orhoro, and Orhue and their migration from ancient Benin Kingdom to their current location. This is an annual event held in Orerokpe to symbolize the native existence of the people in their present location.
viii. Ine/Ekensu
This festival holds in Asaba, the capital city of Delta State. It is a 5-day event holding in the five villages of Asaba. It is a celebration of war and of peace, and it features war dances, military-like parades, reenactment of old battles, and other related events that spice up the annual event.
ix. Ikwerre, Kalabari, Okrika festivals
The Ikwerre, Kalabari, and Okrika communities of Rivers State annually celebrate festivals to honour water spirits of their region. Masquerades wear headdresses that imitate fish and water birds. The festivals start with a divination from the priest of the deity to be celebrated, and this is followed by ritual sacrifices and songs and dances celebrating various water deities.
x. Iwaji festival
This festival is celebrated to commemorate the harvest period, particularly the abundance of harvest during the New Yam period. This festival is held after initial yam harvest to appreciate the gods for a good harvest, after which humans are free to partake in eating of yams.