A militant group, the Niger Delta Freedom Fighters has written an open letter to President Muhammadu Buhari.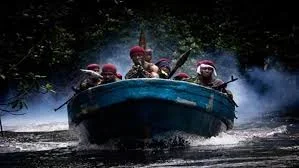 Read full letter below:
We respectfully write to remind you of the previous open letter to you Mr. President by NIGER DELTAS Freedom Fighters whose mission is to fight for our Right, especially our immediate plight in Akwa Ibom State where we are treated like slaves in our father land. We will still like to use this medium to congratulate you in the job well done in area of corruption and strengthen other abnormalities in the Country. It will be a commendable development if the mechanisms put in place to fight corrupt leaders are also stretch across the whole, mostly Akwa Ibom State to investigate the level of governance and how the funds are being managed.
The Governor of Akwa Ibom State has been squandering the money illegally without focus in the name of sponsor pre-election campaign towards 2019 for the selfish interest, whereas the State is underdeveloped.
Moreover, the governor is spending 2 Million Naira to each ward in all local governments of the State made up of 310 wards multiplied by 2 Million is the huge sum of money considering the economy situation of the Country; it is also on record that the State Governor still paid the sum of 2 Billion Naira every month to the former governor, Senator Godswill Akpabio,300 Million to his wife and 100 Million Naira to Ibanga Akpabio. In the same vein removed his security Vote of 2 Billion without any interference or obstruction. It is also on record that the State Governor has purposely refused to conduct Local Government Council elections.
I like to state and like which Country or State Governor can be so fraudulent to considered his pocket in the name of Security Vote, are we fighting war? Like Liberia, Angola, Israel or Somalia that is fighting war, which can promote the governor to be terrified on order to be secured?
Mr. President, it's obvious unscrupulous to spent money that is meant for development especially the neglected areas like Oro Nation which is made up of five Local Government Areas that is deeply neglect, marginalized and abandoned. The roads are so bad, no electricity, or any important projects. With pains and tears in our eyes, we pleaded for immediate intervention from the Federal Government before mayhem or destruction of life and properties the State and Country are done.
Freedom Fighters want all our belongings that have been siphoning to other part of the State and Country back to our land and fully implemented. While have we are hated so much, our land is being exploited for oil that makes Akwa Ibom what it is, but no good recognition and due attention to ameliorate the poor situation of Oro Nation is done. It is on this background that we plead and agitated for a New Atlantic State where we can manage our resources and also develop our areas that are dilapidated and under-developed.
Since the inception of our dear Governor there is increased of hunger on the land, workers' salaries have not been paid, pensioners has been abandoned, especially the Primary School Teachers and other Sectors are not looked into since 2011 implementation of allowances refused to be attended to vividly. Mr. President we have stated categorically in our previous letter to have an Atlantic which was already deliberated during the administration of our late President Yar-Adua, unfortunately the sudden death of President Yar-Adua stop the processes from actualization. We are still on that for a new state to separate us from Akwa Ibom State but still in Nigeria to avoid jeopardize marginalization and frivolous enslavement from Ibibio and Annang ethnicities.
We therefore solicit your kind intervention to end this war that is about showcasing to stabilized peace, harmony and unity in the Country.
Sign by General Hakuna