Nigeria -
Notable Igbo leaders, including retired army generals, led by the former President-General of Ohanaeze Ndigbo, Dr Dozie Ikedife, in a private visit have appealed to president elect Muhammadu Buhari not to ignore Igbos in his incoming administration, Vanguard reports.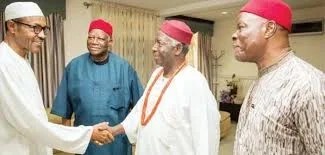 They urged Buhari to give Ndigbo their pride of place in his in-coming administration, not minding that Ndigbo did not give him massive vote during the just concluded presidential election.
"Our private visit to the president-elect was to let him know that he is the president for all and that he has to accommodate people from the South-East in his administration, whether they voted for him or not, afterall, Ndigbo are not saying that he did not win the election" Ikedife said.
He noted that while it was a known fact that the National Executive Council, NEC, of the APC had done its zoning as to who got what, the Igbo should be well accommodated and not to be left to pick the crumbs.
"We have people who are capable, qualified, hardworking and technocrats who can work with him in Igbo land. We have people like the former Governor of Abia State, Dr Ogbonnaya Onu, very brilliant and very respectful. We have Oscar Udoji and other people of high integrity and dedicated politicians like Dr Chris Nwabueze Ngige. And there are people who worked tirelessly for the APC to win in the South East, people who did not vie for any elective position, no matter the low number of votes they attracted because of the overwhelming South East support for the PDP. It is important that these people should be accommodated", the Igbo leader said.
#Nigeria #Igbo #Buhari