Ekiti state governor, Ayodele fayose has said that for President Mohammadu Buhari declaring Dasuki and Nnamdi Kanu guilty even before trial, Nigerians should be prepared for a return of the 1984 experience in which Buhari's military tribunal sentenced people to jail terms ranging from 21 to 300 years, such that the Nigerian Bar Association (NBA) had to boycott the tribunal.
Fayose described the ascent to power by President Muhammadu Buhari as a misadventure for Nigerians just as he called on international organisations to focus their attention on human rights abuses and contempt for the rule of law in Nigeria in 2016.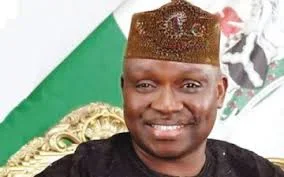 Fayose, who said he was not disappointed by the President's response during his media chat, to question on the disobedience of court orders by the Department of State Security (DSS), added that he had said it several times that a dictator would always be a dictator and that those who helped him to power would end up in his goal of dictatorship.
- Guardian