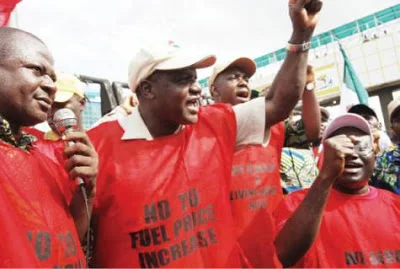 The Nigerian Labour Congress (NLC) has said it will down tools as from tomorrow, Wednesday 18 May 2016 over the removal of fuel subsidy, and called on the Federal Government to reverse the Premium Motor Spirit (PMS) to N86.50 per litre, else the labour union will not rescind its decision on the industrial action.
Though, there are still ongoing talks between the Federal Government and the Labour Union over the issue. But, anyhow as the case maybe, below are the things Nigerians should do today should the meeting end in deadlock.
1.
Stockpile food items:
Food is very important. While everywhere will be on total shutdown, the kitchen should also not suffer for it. It is advisable one stores up food items (that are not immediately perishable) as much as possible for the days to come.
2.
Cash withdrawal at the bank:
Especially for those without ATM cards, today is a good day to walk in to the bank, and pick up the withdrawal slip to cash enough money needed to keep body and home together while the strike lasts. And to be on a safer side for those with ATM Cards, it is better to make withdrawal today while the bank is still in full operation in case of any complaints. ATMs may run out of cash during the strike too.
3.
Fuel:
Well, one may not need it for his car, but for the generating set at home. It's predictable that there may be power outage all through the strike season, and that's when news of protests will be flying around. So as not to miss out of the information and the current state of things, it's better to have the generator filled. But ensure you keep the fuel in a safe zone.
4.
Internet Data Plan:
This may sound funny, but may not especially with 24/7 gadget users. We are in an internet world. We have all information at the tip of our fingers. We can do almost everything with our mobile phones, ipads, laptops, etc. We need strong data plans to access the internet. Hence, the need to recharge our devices, and our connecting systems ahead of the industrial action so that we don't miss out of the whole show. And then, you will also need to call your friends and relations to be sure of their safety during the strike action.
5.
Be nosy or conscious of your environment:
This is not to say that the whole strike action will amount to a bloody or rowdy protest, but it is best one is conscious of his environment in such a situation. You should check around, and find out if a particular group is planning a protest or staging a road show in support of the reversal of petrol pump price. Check around to know of their strategy and how they plan to do that. You may wish to join them, but ensure you're conscious of what's going on –so you don't end up being a victim of circumstance.
6. Get your batteries, flash lights charged:
As explained earlier, there may be power outage all through the strike action, and it's good you have your batteries and flash lights charged to conquer darkness.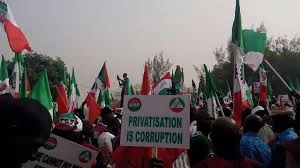 7. Assign workers to specific roles:
Especially for departmental heads in corporate organizations, NGOs, and non-profits, it is best to call your workers together today before the close of work and intimate them of the recent situation in the country. Also, advisable to assign specific roles to individuals before the lockdown, so that company affairs will not be dormant while the strike lasts. This is also a simple work-at-home strategy to get things done.
8. Stock up movies/books:
Not everyone will be on streets to protest, some will prefer to relax at home and watch movies. Today is a good day for movie lovers to buy seasonal films and series to get themselves busy with while the strike. Book/Novel addicts should also do same.
9. Travel Plans & Schedules:
You may need to be flexible with your travel plans from today. Free flow of traffic may be hindered in a way, (with barricades) and may also disrupt appointment schedules. Whatever happens tomorrow will ultimately decide how best you will handle the situation, but start being flexible with your plans as from today.
10.Put things in place:
Before the close of the day, ensure you've things put in place, and are in order. So that it doesn't look confusing when all returns to normalcy.