Presidential aides were on Friday put on standby over the imminent return of President Muhammadu Buhari from London, United Kingdom.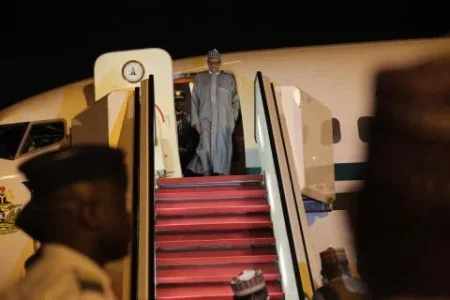 Buhari, who left Nigeria on January 19, was initially scheduled to return to the country last Sunday in preparation for resumption to office last Monday.
However, the Special Adviser to the President on Media and Publicity, Mr. Femi Adesina, later issued a statement announcing that Buhari had notified the National Assembly of his decision to extend his vacation.
Sources at the Presidential Villa, Abuja told one of our correspondents on Friday that Buhari was being expected this weekend. The sources said that presidential aides and officials of the Protocol Unit, as well as security operatives, had been put on the alert over the President's imminent arrival.
One of the sources said, "The President is expected back this weekend. We are expecting him to return either on Saturday or Sunday.
"As of now, we are not sure of the time of his arrival yet. The Protocol Unit will confirm that to us later."
Another official said if the President would return by Saturday afternoon, his arrival time would be clear by the (Saturday) morning.
Amidst growing concern that Buhari had extended his vacation indefinitely as his new resumption date was not included in his latest letter to the National Assembly, Adesina had during the week, said the President would return sooner than expected.