Apostle Johnson Suleiman of the Omega Fire Ministries, OFM has reported Festus Keyamo to the Nigerian Bar Association, NBA accusing him of blackmail.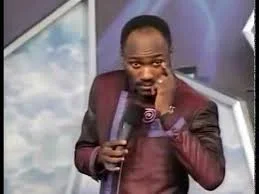 A copy of the letter sent to the NBA was also sent to the Festus Keyamo Chambers. Read full letter below:
Below is the letter by Suleman's lawyer.
Festus Keyamo Esq,
Festus Keyamo Chambers
Anthony Village,
Maryland, Lagos.
Sir,
ALLEGATION OF PROFESSIONAL MISCONDUCT AND UNETHICAL PRACTICES
Sequel to our letter to you dated 6th March, 2017 we have observed with shock and dismay your deliberate and relentless efforts to malign and convict our client through media trial.
By your relentless media campaign, you are conducting yourself in a manner inconsistent with S.1 of the Rules of Professional Conduct For Legal Practitioners 2007. Instead of gathering your facts and evidence before a court of competent jurisdiction for adjudication you have cleverly resorted to blackmail and intimidation of our client through the media-both traditional and social media. In short, you have threatened and indeed executed your threat of conjuring, manufacturing and synthesizing bogus and unverifiable exhibits in the social media and newspapers, all with a view to poison public opinion against our client and reduce his esteem and reputation in the eye of any reasonable man. Your attitude is also to ambush a fair trial while litigation is anticipated. This is contrary to S.33 of the Rules of Professional Conduct For Legal Practitioners 2007.
In the Punch newspapers of Tuesday, March 7, 2017 Vol. 41 No 21,388 page 10 you were quoted in an interview threatening to "release more bullets." You said your client under your supervision will be organizing a world press conference and "we will begin to release bullets."
Furthermore, you grossly and recklessly maligned our client, saying, "these men of God are not what they claim to be, we have a duty to protect the public. Many of them are fake and fraudsters. You will see the video very soon in the next few minutes." True to your threat of trial publicity stunts, the video clips have flooded the social media networks.
We believe your conduct is inconsistent with the virtues and rules of conduct of the legal profession. It smacks of indiscipline and disdain for the judicial process. Therefore, we demand a retraction of all your press statements and an apology to be published in the major social media networks and Punch newspapers.
Also, we demand a compensation of One Billion Naira for all the injuries inflicted on our client. We expect you to meet our demands within seven days from the date above written
TAKE NOTICE that we shall drag you before the Legal Practitioners Disciplinary Committee for infamous conduct, if you fail to so do.
Yours faithfully,
Osa Director Esq
For: OSA Director & Co.