The deepened allegations of infidelity by Stephenie Otobo, canada-based Nigerian stripper on Apostle Suleman is not over yet as she has declared that having seen the pastor's nakedness, her God which is greater than that of the clergyman would put him shame.
Otobo had accused the fiery cleric of impregnating and abandoning her, and released intimidating details about her alleged romance with Suleman.
Just last Sunday, mother of the Canadaian-based stripper, Tope Otobo, was at Suleman's church, Omega Fire Ministries headquarters in Auchi, Edo State where she begged the cleric on behalf of her daughter.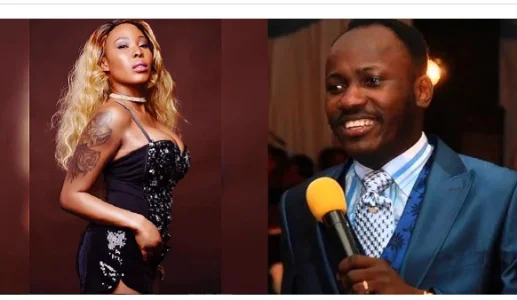 But in a new video she released, Ms Otobo accused Suleman of desperately trying to hide his evil deeds by conspiring with her mother to carry out such action.
Stressing that she has no physical power, the Canadian-based singer warned that shame and destruction will come on the clergyman in all he does.
She said, "I want to say thank you to all those who have being supporting me and for those not supporting me, I hope one day you will see the truth.
"This is not just my fight but it is for those that have been abused but could not come out to say the truth or stand for the truth. If I was the daughter of a prominent person, will you go to my mother, call Canada for information, would you go to my father, would you do these things?
"If my parents had powers to fight you, would you still be doing these or you will just end this in the closed door. Apostle Suleman is really getting too desperate. I have seen your pictures with your wife that is what I hope God for in all marriages and I know she would be thanking God for making this happen.
"Are you trying to hide something here, are you trying to hide the fact that you are not who you have been showing people that you are by playing with your wife, making people think you are so much in love with her.
"Where were you last year, two years ago with your wife? Anyway, I know my God is stronger than you and he has more connection than you. No matter what I'm still standing, I don't care the agreement you had with my mother or my family that made them bought whatever you are saying to them.
"On that Sunday, you sent private cars to pick up my mother from Delta State to Auchi which is like five to six hours away. You are so desperate to get something; you want to be God that you are not. God is in heaven and he can never allow anyone takes his place and this is why I'm still standing.
"Physically I have no power to fight, it's just God that is fighting for me and this God will fight you to the last and the truth will come out.
"No matter what you do with my family or calling people in Canada, the truth will come out, I will not bow. You are just an ordinary man that I have seen your nakedness, you are like an Agbero, a vulture, so skinny like a rat.
"I'm not scared of you, you can make anyone bow to you but I'm standing for the truth, I have seen your nakedness on and on and I'm not shaken.
"I'm placing a curse on you for doing that to my mother; you went too far to take my mother from her home to Auchi your church and made her kneel before you. For this you have done shame and destruction will come upon you.
"I can't be scared of you because I have seen your nakedness, you have used your tongue on my body, given church money to me instead I will curse you that God of truth will send his fire to destroy you."