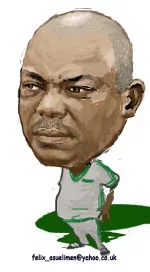 OUT-GOING (?) Super Eagles coach, Stephen Keshi, might have effectively made a tacit admission: his February 2013 African Cup of Nations victory came only through sheer luck and providence. He came on board in November 2011 promoting the usual Nigerian football musical chart-buster starring the weather-beaten title track, "Building a New Team."
As Nigerians eagerly expected the emergence of a formidable squad, his team remained "work in progress." Almost three years on, the music has not changed. After crashing out of the 2014 World Cup in Brazil, he described his collection as "a very young team." Only sheer luck and providence could have, 16 months ago, given a title as big and competitive as AFCON to a team which even today still remains a young, new work-in-progress over other teams that were not only good and established but also solid, compact and ready.
In my piece, "Super Eagles: The fallacy of New Team" of March 2011, I recalled that we embarked on our latest journey to the world where new teams are built in 2002 when we prematurely hounded out a number of our established and battle-tested stars just because they had one poor AFCON outing against a Senegalese team that was on its way to conquering defending World Champions, France, only four months later.
Click here to read more
Source: #Vanguard newspaper