Earlier this week, an anonymous whistleblower shared the story of a secretly gay man in Lagos who is married.
The story was shared after the disgruntled wife sent a message to online counselor, Joro asking for advice. See wife's message below: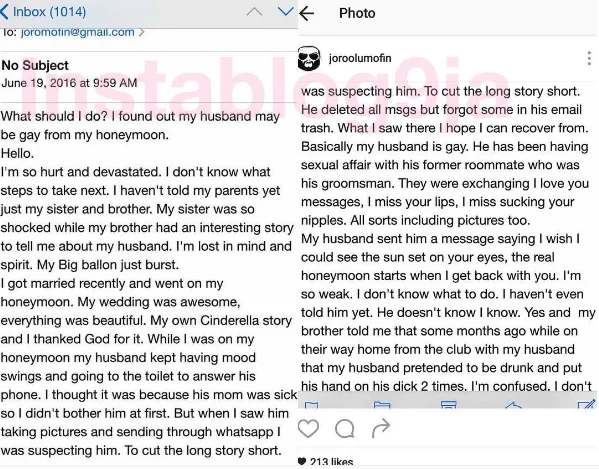 On Twitter, the whistleblower wrote: "Is it not true that as early as your honeymoon, your wife stumbled on some shocking truths about your sexuality? Is it not true that your wife caught you sending sexually explicit messages and nudes to your buddies?
Is it not true that she walked in on you in bed with another man and that a family meeting was held where everyone agreed that this be kept secret? But your wife doesn't know how to keep secrets, you know.
She confided in close friends about how her husband made a move on her brother. She even claimed to have sent an email to one relationship coach on IG, seeking advice on the issue. We found the email.
Hasn't she always voiced her concerns about your perverse closeness with other men, particularly a recently-married media personality? Even your wife's closest friends dey help am spread this gist.
Did your family elders in order to avoid the embarrassment of a scandalous divorce not give your wife the go-ahead to sort herself out by collecting steady knacks outside? Since getting married, how many guys (married and single) has she given free knacks?
No judgment per se on our part, sebi family don give her free hand? She sent nudes to these different men, even while being preggers. Your babe is so confident and nonchalant about her philandering, that she's extended invitation to different men who have gone on to fuck her in your house. True or False?
Another question though, if you hate pussy and your wife has been helping herself out by the side, is not possible that your wife's baby belongs to someone else. Abi, how u take see am?
Oga, why can't you stay true to yourself? Your wife says you love to take it up your ass. She has told everyone who cares to listen! Per your arrangement, she has been sorting herself out. But really, who can blame the poor girl?
Of course, we have strong and detailed receipts backing all this up. We have no need to post them - yet. For now, let us bask in the warm glow of the truth or shall we call it farce you live."