Tuta absoluta is a species of moth in family Gelechiidae known by the common names tomato leafminer and South American tomato moth. It is well known as a serious pest of tomato crops in Europe and South America.
The federal government on Tuesday confirmed the six states hit by a pest called the Tomato Leaf Miner or Tuta absoluta, commonly referred to as 'Tomato Ebola.'
Here are 10 important things Nigerians should know about the ravaging tomato pest:
- The pest (Tuta absoluta) was discovered in South America in 1912 where it ravaged many farms before it spread to Europe and then to Asia and now to East and West Africa.
- According to the Minister of Agriculture, Audu Ogbeh, the pest came into the country from Niger Republic and manifests a powerful infestation that could make it impossible for the country to grow tomatoes, if not dealt with.
- 'Tomato Ebola' is the disease responsible for the massive destruction of tomatoes in farmlands in Nigeria which has made the price of Tomatoes sky-rocketed in the past few weeks
- Federal government has engaged experts to find solution to the spread of "Tomato Ebola," a pest currently ravaging tomato farms in the country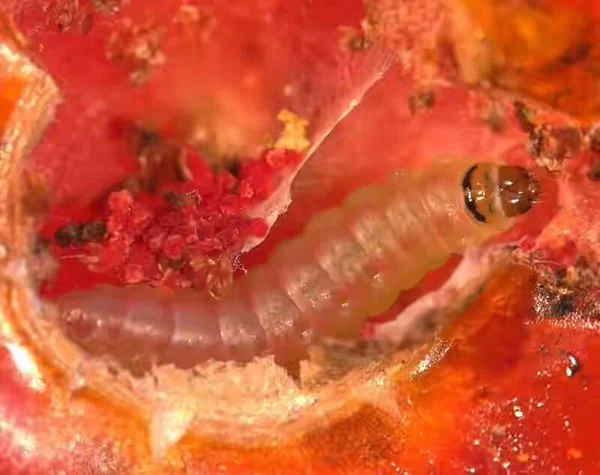 - Federal Government has confirmed that the pest has attacked six states
- Ordinary pesticides cannot deal with this `tuta absoluta' because it has a way of multiplying so fast. It produces almost 250 offspring per cycle
- The pest can also attack even pepper and Irish potato
- Kaduna state government under the leadership of Mallam Nasir El-Rufai has also declared state of emergency on the pest for destroying over 80 percent of tomato farms in the state
- The tomato shortage caused by the outbreak has caused prices to go up "astronomically", a wholesale basket containing hundreds of tomatoes now sells for 42,000 naira ($212, 186 euros), up from 300 to 1,500 naira before the outbreak.
-
Signs and symptoms
Common signs and symptoms of Tuta absoluta on fruit and stems include:
puncture marks,


abnormal shape,


exit holes,


rot due to secondary infective agents, and


frass (fine powdery material that plant-eating insects pass as waste after they digest plant parts).
Last edited: