A letter has emerged alleging that the company; REMITA has written President Muhammadu Buhari, claiming that their contract with the federal government was approved by the past administration… Laughable I think!
That letter is one of the cheapest coverups that this shameless administration has adopted in recent times because we all know that Buhari cancelled almost ALL the contracts put together by President Goodluck Jonathan's government started.
So why did Buhari allow REMITA contract to stand? And not only did he allow the contract to stand but asked 99% of ministries and government agencies to bank into the TSA via REMITA as against what the Jonathan administration practiced.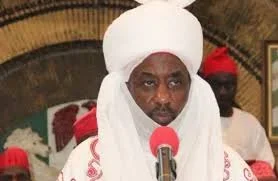 It's no secret that Sanusi Lamido, during his time as the CBN governor worked against the Jonathan administration until it led to his suspension. Therefore, I would not be surprised if REMITA contract was one of the jobs he did for his APC friends during his tenure, since REMITA is said to be owned by a top All Progressives Congress (APC) kingpin from the South West.
So, I ask again, what is the very vocal Sanusi waiting for before he tells Nigerians what he knows about REMITA and the fraud of draining Nigeria by 1% of whatever passes through the national treasury?
For a man who couldn't even wait 24 hours before granting an interview calling a woman battling with cancer a liar and a thief, over a personal bitterness on missing Africa's top banking job, it is incredible that Sanusi has been quiet on the REMITA fraud alleged to have happened under his watch. He needs to call up his publicist now.
The Jonathan administration implemented the TSA policy and saved over N500 billion without taking a kobo from the money. His government was never accused of a REMITA deal. I believe the APC would have been all on his case if Jonathan had paid out any money to REMITA.
Lai Mohammed and his band of media lynchers were constantly on Jonathan's trail; so why didn't they scream impunity like they still do even when there is none in sight?
Why is it that the Jonathan government save over N500 billion with TSA and Buhari's administration in just 5 months is ladened with corruption charges running into N60 billion, according to the Senate, on REMITA?
Why didn't REMITA state in their letter which was published in a Bola Tinubu owned media, The Nation, how much they collected under Jonathan? Since they claimed to have been working for Jonathan's government?
Who is fooling who in this whole saga?
I call on Sanusi Lamido Sanusi to speak up and speak up NOW. The APC and REMITA are linked and they are trying to deceive Nigerians as they always do.
Nigerians, beware.
Euphemia Udanoh
is an author, scriptwriter, and youth activist. She can be reached by email. Connect with her on Facebook.
Source:
Trent