On Tuesday, FIFA confirmed that the World Cup will be expanded from 32 to 48 teams, beginning from the 2026.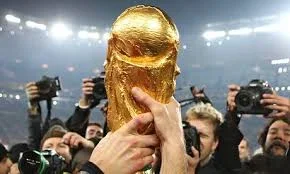 This expansion means that all confederations will get additional slots.
The Confederation of African Football (CAF) are the biggest beneficiaries with an increase from five to nine slots.
Currently, CAF has five groups of four countries each, with the top teams automatically qualifying for the World Cup.
The Super Eagles presently top their group with six points from two matches and are favourites to qualify.
However from 2026, CAF will likely adopt a larger grouping system, that may see as many as nine groups, with each group winner proceeding to the World Cup.
This format will see most of the top ranked teams exempted from the preliminary round of qualifiers, which means fewer games. Also, it will reduce the chances of 'big' countries being in the same group, as the top nine teams in the last FIFA ranking before the draw will be seeded.
CAF could also decide to maintain the current five qualifying groups, with only the top teams and four of the second best qualifying.
Whatever the format, the chances of the Super Eagles qualifying for the World Cup has now increased.