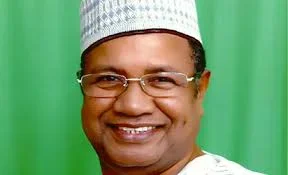 Former Presidential Adviser on National Assembly matters to late President Umaru Yar'Adua, Senator Mohammed Abba Aji, in his critique of the Buhari administration, has said that it has met its target in combating insurgency and remains focused in tackling endemic corruption. He attributes the stout growth of the economy to the glut in the international crude oil market but expresses hope that the present administration would surmount its present challenges.
He touched on these issues in an interview with
The SUN.
In few days time, we shall be celebrating another Democracy Day. What is your assessment of the Buhari administration?
Well, I will score him 'A' on security, because I am from the North-east. I am from Borno State which is actually the ground zero of the entire conflict. Before President Buhari came to office, Boko Haram was rolling out armoured tanks and they had 14 local governments under them, where they have hoisted their flags, where the people were under bondage, where no security officer or private individual could go to these areas. They were entirely under them. The federal government appeared at that time to have resigned to its fate and Boko Haram wasn't afraid of losing any of the 14 local councils and they were looking forward to adding some more.
That was the situation when President Buhari became the president and in less than one year, there isn't a single local government that is under them; they are no longer rolling out armoured personnel carriers, or tanks and they are no longer going in fleets of brand new Toyota Hilux pickups. Not anymore! Now, some of the reports we hear: moving on bicycles, on horsebacks, or donkeys and their command structures have been completely broken and Borno is now safer; in fact, the entire North is much safer. In Adamawa,
10 Internally Displaced Peoples (IDPs) camps have been closed down and the people have gone back to their villages ; that's very encouraging. In Borno, some people have gone back to Gwoza, and the trend is quite encouraging.
So, he has achieved a lot, using very little available resources. Because of this, I will give him an 'A+ ' in security.
Also closely related to security is corruption. Corruption actually damages the very fabric of a nation and it isn't just security, it has permeated all spheres of our national life and he is a man everybody believes his stand on corruption and he is doing very well, so far and it is very transparent.
It isn't something being done behind closed door, people are accepting that they received certain amount of money and they have agreed to refund and some have actually affected the refund. This is a very transparent way of executing the war against corruption.
The economy, because of the dwindling oil prices, also dwindling petroleum output expectedly the economy isn't doing very well and that has been affected by the delay in the budget process. Not many toed his line at the beginning, they thought it was going to be business as usual and therefore, you could see the padding of the budget and other distortions until when he put his feet down and reminded them that this is Buhari's administration and things have to be done properly.
The National Assembly accepted, the bureaucracy accepted and all the toxic figures that were smuggled into the budget were removed, everybody agreed and he has assented to it. But the damage has been done, because it has been delayed.
Let me take you up on two issues: economy and corruption. On corruption, there is the perception that it has been selective, not holistic and people being arraigned in court are predominantly members of the erstwhile ruling party, PDP. They are of the opinion that the source of campaign funds of APC should also be probed. What is your take?
Well, it is expectedly so, because PDP is the one that has been ruling since 1999 and therefore, corruption is available to willing rulers. Therefore, it is expected that all corruption were perpetrated by the PDP, they have ruled for 16 years.
On the issue of campaign fund, yes, every political party used some funds but this one was coming from money that had been budgeted for execution of war on terror. All these money were allegedly traced to the office of National Security Adviser. The NSA isn't the statutory source of fund for any political party, not even PDP because it isn't an organ of PDP and the money that was disbursed for the PDP campaign was clearly money that had been budgeted and provided statutorily for the execution of the war on terror. So, that in itself is a crime, because when you misapply budgeted fund, it is a crime itself and in this case, they were using it in the name of campaign to just share it among themselves.
You can remember some of those that were interrogated disclosed how much they kept for themselves. Are you saying those saying the fight against corruption be holistic aren't making sense?
You see, the current ruling party wasn't in government before, so it has no access to government fund let alone the chance to misapply it. It was the PDP that was ruling but if they get a little patient, I agree that is only true at the national level; at the state, yes, there were PDP governors only that I think the investigation is yet to reach that level but as soon as the state level is arrived at, we shall see indictment of APC leaders as well.
The president has said and everybody believes him on that, that there is no sacred cow. So, at this stage, it is the federal level that is being investigated and it seems almost all of them are PDP and of course, it was in control of the national government at the time but as soon as we start getting down to states and local level, you will see APC indictment.
On the economy, there is this perception, to use Obasanjo's words, Buhari isn't hot when it comes to management of the economy. He seems not to have the capacity.
It isn't capacity, there is no money! Let us face it. Obasanjo was very lucky when he was ruling, the value of the dollar was high and revenue from oil was fantastic. After that, thanks to what the late Yar'Adua has done by addressing the demands of the militants; oil production jumped up and throughout the presidency of Jonathan, oil prices were quite favourable.
But as soon as Buhari steps in, he came in at a time when we were just getting into a new world order occasioned by a new global economy. The execution of the wars in the Middle –East, escalated; before then at that time, it didn't reach Yemen, at that time, there was embargo on Iran and it wasn't producing crude. So, our crude was well sought after.
There was dearth in production because Iran is a major producer and it was suffering from the embargo but now, the embargo has been removed and Iran is playing a catch up and it has been very open about it and it has ignored appeals to cut production.
Saudi is also saying, if Iran isn't playing according to the OPEC rule, it will not either. So, now, all OPEC members are producing above their quota. That's the time we are supposed to be producing our quota just to remain even in the game but what happened? The militants are blowing up pipelines and instead of 2.2 million barrels per day, we are producing at 1.65mb/day when the rest of the world are producing beyond their own quota. We are now producing below our quota. Now, the price is very low at a time when we are executing the war on terror, at a time when the economy needs a lot. So, it is a tall order and I think that President Buhari needs and rightly so, a lot of understanding from Nigerians and he has been appealing to us.
Apart from that, he didn't just say he needs our patience, that it will get worse before it gets better, but look at his budget: N500 billion, half a trillion naira as palliatives. That's very good, that will go to the downtrodden, to the weak and the economically vulnerable and that will actually cushion the effect of the austerity.
Talking about demand for patience and austerity measures, in the face of dwindling revenue, Nigerians are of the opinion that it must also reflect in the profile and lifestyle of government. You are asking people to show understanding, but you aren't cutting cost of governance.
Take for instance, the number of presidential aircrafts he inherited. Well, the presidential fleet are national asset and president Buhari hasn't increased them by one but those had already been purchased and there is nothing you can do about them but you can see that only he and he has been using them for official purpose.
You hardly see, as it used to obtain, president's friends and family members going everywhere with presidential aircrafts.
But Nigerians don't look at increase in price in isolation, but the spiral effects on other goods and services. Will the palliatives really cushion the effect?
I agree with the increase, but what I don't agree with is some of the effects. Some are quite artificial, I will tell you. I was buying an electrical appliance and the person told me, you know the dollar has gone up. I said to him, it hasn't for you, because you are an importer of these things and I am sure you filled form M', and I am sure you got it at approved rate, so you cannot talk to me about black market. Did you smuggle it into this country! So, he gave me at the real price.
So, there are many people who are taking undue advantage of the system; even goods that aren't dollar denominated, they say the dollars have gone up. But I am sure market forces will make them to settle down; they are the solution for distortions.
Are you now a member of the APC?
Yes
What is the future of the party, as we approach 2019?
Well, I know that actually, the life of APC, the beautiful bride of APC remains
President Buhari. If not because of the person of President Buhari, APC will not be in power in Nigeria. Everybody knows that. So, I think everything about the future of the party will depend on Buhari's administration. If he stays the course, I am sure that after his eight years, there will still be APC in government.
So, it is a trend, not only appreciated by Nigerians but also by the rest of the world. Very senior world leaders have respect for us now. When was the last time the Queen of England, or the President of the USA, or British Prime Minister look in our direction. So, the whole world respects us now. You know Buhari isn't a recently transformed person, he is a person with the pedigree, the history of being consistent and he has gone through thick and thin; sometimes at risk to his personal life. That isn't easy I know and my advice is to continue to stay the course.
After his eight years, he will be relied upon to bring up a successor and sell to the Nigerian people and once he sells a successor, that person will sail through.
Remember most of these APC governors made it because of him and before then, ANPP governors actually made it because of him although many of them later sabotaged him and worked with PDP but he knew, but he stayed the course and remained focused until when he became the president.
So, because he has the capacity to remain focused, he has the capacity to be consistent, I am sure that this will translate into a lot of fortunes for APC as a party in the future.
Interview first appeared in THE SUN.
Photo credits: Vanguard.