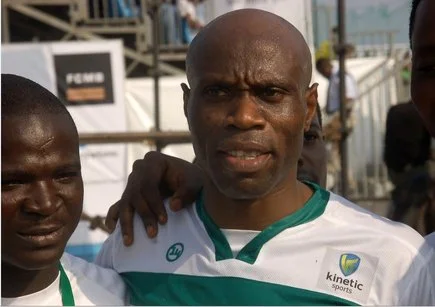 Former Nigeria defender Taribo West believes that the country should be able to study Germany's template if they are to become successful on the world stage.
Taribo argued that Nigeria must have a long term plan to execute,adding that the right people must be brought in to run football not those who don't understand the techniques of the game.
According to Taribo,Nigeria has a lot of lessons to learn from the two World Cup finalists: Germany and Argentina on their success mode.
"We have a lot of lessons to learn from the two sides, especially Germany and their coach, Joachim Low. He had a lot of critics even before the World Cup but he proved them wrong on Sunday by winning the tournament," Taribo told The Punch.
"Oliver Bierhoff was my teammate at Milan but he is the manager of the German national team. He knew his job and he executed it well. But here, we bring in just anybody to administer our football. If you put me in a bank today, that business will crumble overnight because I don't know anything about banking.
"German football has a vision and structure, with everybody working towards one goal and I can bet you both teams that played the final game on Sunday have already started preparations for the 2018 World Cup in Russia.
"But money issues have always been our undoing. There is always somebody somewhere, who wants to pocket money meant for the players."
The former Inter and AC Milan player also called for the inclusion of ex-internationals in the running of football in Nigeria as they would bring their wealth of experiences.
"Ours is a critical and complex case; it's a big shame. People at the helm of affairs should put competent ex-internationals in the right positions because they understand football better and the problems footballers face," Taribo added.