The debate on whether President Muhammadu Buhari should open negotiations with the Niger Delta militants have been on for a while. While some, mostly southerners, embrace the development, the northerners do not consider it needful.
In reality, the government needs to weigh its options carefully on a sensitive case as this. However, not offering negotiation with them may be more advantageous to Nigeria as a country.
Here are top 7 reasons why president Buhari should not negotiate or offer amnesty to Niger Delta militants.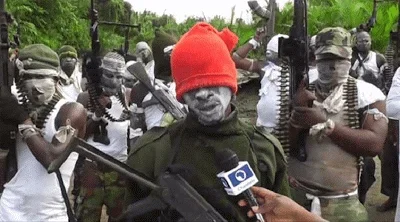 1. Democracies don't negotiate with terrorists
Who is a terrorist? The U.S. Code of Federal Regulations defines terrorist as "an individual or group of persons who engages in use of force and violence against persons or property to intimidate or coerce a government, the civilian population, or any segment thereof, in furtherance of political or social objectives." The activities of the Niger Delta militants obviously has some, if not all of the characteristics noted in the definition. However, it is against international law for the government of a country to negotiate with any terrorist group.
2. Corruption will prevail
It is believed that some of the militant groups who are taking up arms against the government are doing so with the support and sponsorship of their godfathers. These 'godfathers' have an interest to protect both in negotiation and 'expected amnesty.' They hope to benefit financially from whatever decisions reached from negotiation and opening negotiation table will only give them ample space to achieve their set aim.
3. Who will benefit?
Today, there is a proliferation of different groups who claim to be genuine fighters for the region. The Niger Delta Avengers, Red Devil, and a host of faceless people involved in economic sabotage. Who will the government negotiate with?
4. Militancy will continue
Youths currently engaged in militancy have the gut to ask for amnesty because their predecessor did same and succeeded. If granted, others will come into the 'business' and continue to hold the government to ransom.
5. Government will pay more
If the federal government negotiates and offers the Niger Delta militants an economic package, groups in other regions will have the advantage of holding the government to ransom at the slightest provocation. Already, the northerners are clamouring for amnesty for the Boko Haram group, an insurgency group considered terrorists.
6. Amnesty is expensive
President Musa Yar' Adua in 2010 introduced the amnesty programme to douse the tension in the Niger Delta region and in order to allow unfettered lifting of crude oil. But this was a time crude oil still sell at good prices. The current economic situation where government at all levels owe salaries of civil servants may not be able to run such programme.
7. No credible result so far
Special Adviser President Jonathan on Niger Delta Matters, Hon. Kingsley Kuku said at a departure ceremony for 186 ex-militants who were leaving for training in the United Kingdom, Ireland and South Africa that 16,683 ex-militants have so far received training or are receiving training since the start of the program. 4,000 ex-militants are undergoing training in 2013, and adds that 6,000 more will receive training in 2014 and similar number in 2015. With the huge investment and commitment from the government, one would expect the region to have transformed for the better in human capacity but the reverse seem to be the case. Why spend hugely on a less effective programme.
Last edited: