The Senior Special Assistant to President Buhari on Media and Publicity, Garba Shehu, has released an article titled, Nine Key Milestones in President Buhar's First Year. President Buhari will be celebrating his first year in office on Sunday May 29th.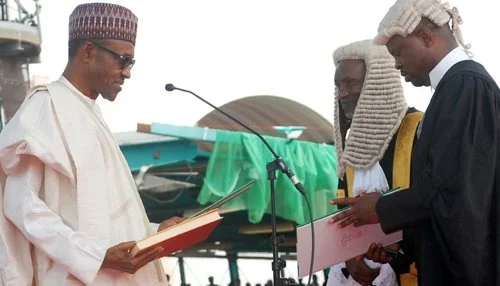 Twelve months ago, President Muhammadu Buhari was sworn in as the President and Commander-in-Chief of the Armed Forces of the Federal Republic of Nigeria.
He came to power following the decisive victory of his party, the All Progressives Congress, APC over the ruling People's Democratic Party, PDP and its candidate, Dr. Goodluck Ebele Jonathan. The victory ended the 16-year reign of the PDP.
President Buhari campaigned on a promise to fight Boko Haram terrorism and secure the whole country, fight corruption and develop the economy to the point that it creates jobs for the teeming unemployed.
Here are highlights of the 9 points:
1.Promise of Transparency and Accountability
2. Implementing the Treasury Single Account,TSA
3. Minimum Government
4. Fighting Insecurity/Stabilizing the State
5. War against corruption/ending impunity
6. Global Diplomacy
8. Major Infrasture Products/Diversification
9. Social welfare program
By Garba Shehu
Senior Special Assistant to the President
Media and Publicity
Read Full article
here